Japan Stocks Retreat Before BOJ Policy Meeting; Nintendo Plunges
by and
Economists forecast BOJ will add to stimulus on July 29

Central bank disappointed investors in past: Daiwa's Miyake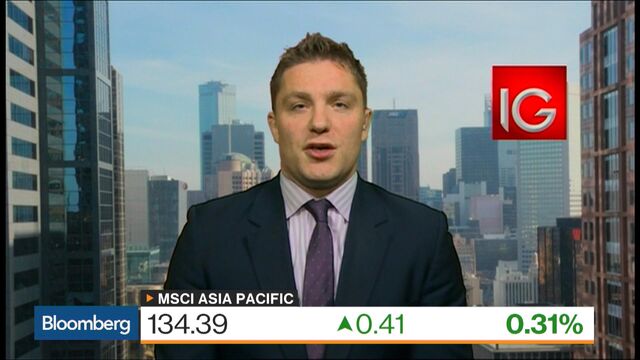 Shares in Tokyo slid as investors awaited a decision on monetary policy from the Bank of Japan this week and weighed corporate earnings results. Nintendo Co. plunged after saying the financial impact from its Pokemon Go game will be limited.
The Topix index lost 0.2 percent to 1,325.36 at the close in Tokyo after rising as much as 0.9 percent. The Nikkei 225 Stock Average was little changed. The BOJ is widely expected to add to stimulus at the end of a two-day meeting on July 29, with an overwhelming majority of economists surveyed by Bloomberg News forecasting more easing. The Federal Reserve also meets this week to give its verdict on interest rates.
"The market is bracing for the BOJ's policy decision," said Kazuhiro Miyake, chief strategist at Daiwa Securities Group Inc. in Tokyo. "There have been occasions in the past where the market rises on expectations and then there's disappointment and stocks are sold off. I doubt we'll see anything new."
The S&P 500 Index rose to a fresh record on Friday amid positive earnings results. Traders are also watching Japanese earnings, with the number of companies reporting set to peak this week. SoftBank Group Corp., Sony Corp., and Panasonic Corp. are some of the firms due to post results.
Yen Slides
The Japanese currency traded little changed at 106.13 per dollar on Monday after losing 0.3 percent on Friday. Expectations for further monetary easing from the central bank weakened the yen after it surged to beyond 100 per dollar following the U.K.'s decision to leave the European Union last month.
Japanese exports fell 7.4 percent in June from a year earlier, beating economists' estimates for a 11.3 percent decline, data showed Monday. The Asian nation had a trade surplus of 1.81 trillion yen ($17 billion) in the January-June period, the first surplus since the second half of 2010.
Almost twice the number of shares rose as fell on the Topix, on volume 19 percent below the 30-day average. A gauge of miscellaneous product manufacturers, which counts Nintendo among its members, led declines among the 33 Topix industry groups, while paper producers rose the most.
Nintendo, which had soared 96 percent since releasing its mobile app Pokemon Go on July 6 through Friday, tumbled 18 percent. The game developer said that the financial impact from the worldwide hit Pokemon Go will be limited.
McDonald's Holdings Co. (Japan), which last week said it was sponsoring the Pokemon Go game, slumped 12 percent
Nidec Corp. jumped 4.2 percent after posting profit that beat analyst estimates.
Futures on the S&P 500 Index slipped 0.1 percent on Monday. The underlying measure rose 0.5 percent Friday as investors showed confidence corporate earnings will not derail the rally.
In the six weeks since the Fed last met, the world has been shaken by events far from the purview of the U.S. central bank: Brexit rattled Europe; France was struck anew by a major terror attack; and a military coup came close to succeeding in Turkey. That's lessened the chance of the Fed tightening monetary policy at its meeting this week, with traders now placing odds of a interest rate hike at 10 percent, down from 48 percent two months ago.
"With a bunch of events lined up this week, starting with the Federal Open Market Committee and the BOJ meeting, and corporate earnings reports also slated for release, investors are likely to take a wait-and-see approach," said Hitoshi Asaoka, a senior strategist with Mizuho Trust & Banking Co.
Before it's here, it's on the Bloomberg Terminal.
LEARN MORE