International Exposure to Turkey Is Showing Up in the Wrong Places
Turkey's putsch attempt was the last thing these companies needed.
By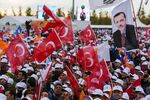 Europe's credit markets are relatively insulated from the turmoil in Turkey. Unfortunately, according to analysts at JPMorgan Chase & Co., where exposure exists it's in all the wrong places.