Germany Rocked by Syrian Suicide Bomber Who Injures Twelve
by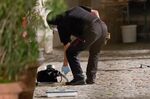 A Syrian refugee committed suicide by detonating a bomb near the entrance to a music festival in the Bavarian town of Ansbach, injuring twelve people.
The man had attempted to gain entrance to the event which was being held in the town, Bavarian Interior Minister Joachim Herrmann said at a media conference in the early hours of Monday.
It remains unclear whether the attack was linked to terrorism. The 27-year-old man, whose application for asylum was rejected, is known to have previously tried to commit suicide, the minister said. The bomb comes on the heels of an attack in Munich last Friday, where an 18-year-old German-Iranian killed 10 people and wounded more than 20 when he went on a shooting spree in a shopping center. A week ago an Afghan refugee wounded two train passengers in an ax assault near the city of Wuerzburg.
Before it's here, it's on the Bloomberg Terminal.
LEARN MORE