China's Huawei Will Ramp Up R&D as First-Half Sales Quicken
David Ramli
Revenue grew 40 percent despite stagnant global markets

Huawei expects to maintain its growth momentum as 5G nears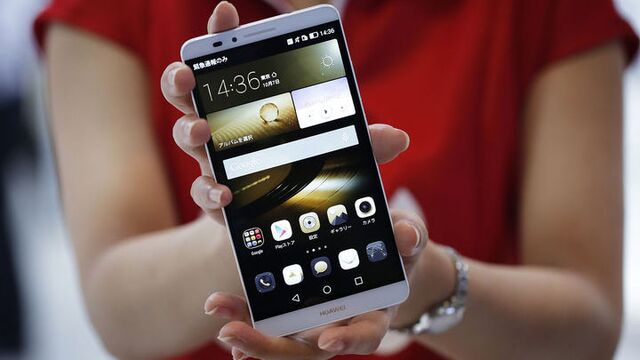 Huawei Technologies Co.'s revenue growth accelerated in the first half as upgraded smartphones and network gear helped China's largest vendor of telecommunications equipment counter deteriorating global demand.
The world's third-largest smartphone brand grew revenue 40 percent to 245.5 billion yuan ($37 billion) in the first six months, the Shenzhen-based company said in a statement. That's up from the 30 percent growth it managed in the first half of 2015.
Founded in 1987 by former army engineer Ren Zhengfei, Huawei has sprung to the vanguard of a crop of Chinese smartphone vendors trying to compete with global leaders Samsung Electronics Co. and Apple Inc. The company used its business of selling networking gear to bankroll an expansion into premium phones, becoming China's biggest mobile label last year. It plans to sustain its pace of investment in research as carriers prepare to build fifth-generation broadband networks in coming years.
Competition, however, is weighing on profitability. Huawei's operating margin came to 12 percent in the first half, narrowing from 18 percent in the same period last year. Global smartphone vendors are scrabbling to safeguard their share of a market going through its worst downturn on record, as Western markets mature and China, the biggest by users, flatlines after years of industry-supporting growth.
Huawei is "one of the few vendors that we're expecting to grow, at least in the smartphone space, quite significantly this year," said Bryan Ma, vice president of client devices research at IDC, told Bloomberg Television. But "there is quite a bit of competition. You've got local vendors in China, Oppo and Vivo, being examples of local vendors that are arguably even more aggressive than they are."
Huawei didn't break out the performance of individual units of a business that also encompasses cloud computing and enterprise services. Its Consumer Business Group, which sells phones, watches and laptops, is scheduled to announce results Tuesday.
That unit chalked up 73 percent sales growth in 2015 to 129.1 billion yuan, out of the corporation's total revenue of about 395 billion yuan. Richard Yu, chief executive of the consumer business group, has said the company aims to eventually displace Apple and Samsung from the top spots in global smartphones. He's hoping for revenue at his devices division to climb 50 percent this year to $30 billion.
As Huawei grows its business and portfolio of patents, it's also begun to flex its muscle. Huawei sued Samsung in the U.S. and China this year after the pair failed to strike a licensing deal over the use of technology fundamental to how mobile networks operate. Samsung then filed a counter-suit in Beijing.
"We are confident that Huawei will maintain its current momentum, and round out the full year in a positive financial position backed by sound ongoing operations," Chief Financial Officer Sabrina Meng said.
Before it's here, it's on the Bloomberg Terminal.
LEARN MORE