Campari Receives Interest for Villa Worth Over $330 Million
by
Sale would be most expensive residential property deal ever

Campari also plans to sell Grand Marnier wine brands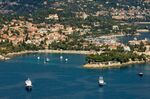 Davide Campari-Milano SpA has received interest from Middle Eastern and North American buyers for a villa on France's Mediterranean coast that may be worth at least 300 million euros ($330 million) in a sale.
Villa Les Cedres, which the Italian drinks maker gained in its acquisition of Grand Marnier Group, is being sold along with Grand Marnier's two wine businesses in France and Chile, for which Campari will kickstart a sale process in the third quarter, Campari Chief Executive Officer Bob Kunze-Concewitz said Monday in an interview in London.
"We're not used to dealing with such assets," he said of the house. "We just sell bottles; we don't spend our time in the Riviera in multimillion-euro villas. Many people who are in the real estate industry see it above 300 million" euros, he said.
At that price, it would be the most expensive residential real estate sale ever, surpassing Chateau Louis XIV, a mansion outside Paris that was sold for a record 275 million euros in December. The sale also would mean an additional payout for Grand Marnier shareholders, who received 8,050 euros a share in cash, plus the right to a slice of the proceeds from the sale of the villa, when Campari acquired the company in June.
The last trade in Grand Marnier shares, before they were delisted in July, was 8,750 euros. The premium above the cash takeover price implied that traders were valuing the villa at 139.5 million euros, according to data compiled by Bloomberg.
The villa, a former holiday home of King Leopold II of Belgium, has been in the hands of Grand Marnier's founding Marnier-Lapostolle family since the 1920s. It's in Saint Jean Cap Ferrat, a peninsula to the east of Nice that's been home to Rothschilds, Russian oligarchs and U.S. tech billionaires. The property's name means The Cedars in English.
It's unclear how long it will take to sell such an exclusive property. A committee of Marnier-Lapostolle family members is overseeing the sale process, the CEO said.
Campari bought Grand Marnier to gain the company's namesake liqueur amid a resurgence in demand for cocktails such as the Cosmopolitan and the Sidecar.
There has already been interest from potential bidders for Chateau de Sancerre -- which makes pinot noir red wine and sauvignon blanc white wine in the Loire Valley -- and Casa Lapostolle, the Chilean wine business, Kunze-Concewitz said.
Before it's here, it's on the Bloomberg Terminal.
LEARN MORE