business
Vancouver Wields Foreigner Home Tax After $1 Billion Inflow
By and
Overseas investors to face additional 15% transfer levy

Measure applies to residential property starting Aug. 2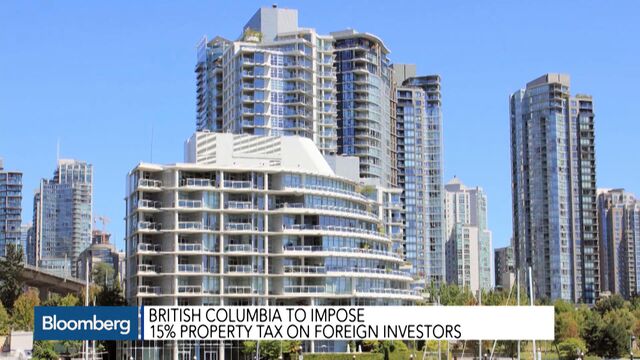 Canada plans to tax overseas investors buying homes in Vancouver, one of North America's hottest property markets, as it seeks to tamp down price gains in an area that absorbed more than C$1 billion ($760 million) of foreign money in five weeks alone.
An additional property-transfer tax of 15 percent will apply to foreign nationals and overseas corporations buying residential property in the Metro Vancouver area starting Aug. 2, the province of British Columbia said Monday in a statement. That means an extra C$300,000 levy on a C$2 million home, it said.
Governments from the U.K. to Australia and Hong Kong have imposed levies and restrictions on foreign buyers in recent years in an effort to cool housing markets shooting beyond the reach of many local residents. Public pressure for a crackdown has been mounting in Vancouver, where the price of a typical detached home rose 38 percent in June from a year earlier to C$1.6 million.
"While investment from outside Canada is only one factor driving price increases, it represents an additional source of pressure," British Columbia Finance Minister Michael de Jong said in the statement. "This additional tax on foreign purchases will help manage foreign demand while new homes are built to meet local needs."
Foreign Cash
Foreign nationals invested more than C$1 billion in British Columbia residential property from June 10 to July 14, according to data the government began collecting this summer. More than 86 percent of that was invested in Vancouver and the surrounding region.

"Right now the market is so hot I don't think we'll have an impact of prices falling," Bryan Yu, senior economist at Central 1 Credit Union, said by phone from Vancouver. "The dominating factor remains that we still have low interest rates and metro Vancouver has a high employment rate, so there's still demand. We'd also need to see more supply to turn prices."
Vancouver ranked 15th out of 17 global cities for housing affordability in a May report by the Conference Board of Canada -- worse than Singapore, Sydney and San Francisco and above only Shanghai and Hong Kong.
The city of Vancouver also was given the authority to impose a new tax on empty homes as part of the legislation announced Monday. Mayor Gregor Robertson has said homes which aren't lived in or rented out are essentially business holdings that should face similar levies.
British Columbia also is amending legislation to end self-regulation of the real estate industry.
(
Adds global affordability ranking in seventh paragraph.
)
Before it's here, it's on the Bloomberg Terminal.
LEARN MORE