Brexit
Brexit Bulletin: What You Need to Know on Monday
Banks under pressure, May in Belfast, and a beginner's guide.
by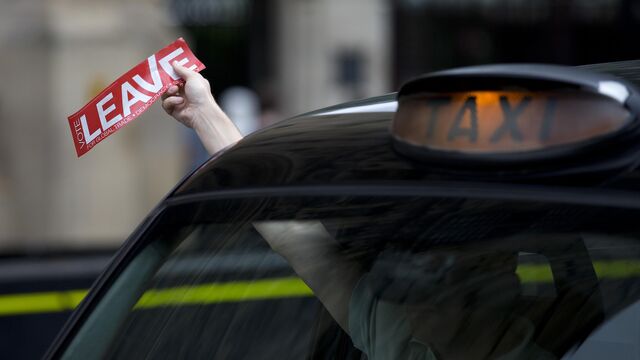 Sign up to receive the Brexit Bulletin in your inbox.
Bank of England Governor Mark Carney takes another run at battling the Brexit fallout this week.

After shocking investors by keeping monetary policy unchanged in July, Carney and his colleagues are predicted by almost every economist surveyed by Bloomberg to cut their benchmark interest rate this week for the first time since 2009. 
Forty-five of 47 economists surveyed predict the key rate will be lowered on Aug. 4, with the majority seeing a 25 basis-point cut to 0.25 percent.

While most forecasters predict additional measures, they are divided on what that might be. The most commonly cited is an expansion of the BOE's quantitative-easing program from 375 billion pounds ($XXX billion). Other potential instruments include buying corporate bonds or making it even easier for banks to borrow to lend.
As Lucy Meakin and Jill Ward of Bloomberg report today, the decision to keep rates unchanged in July as well as a series of  comments from officials raised questions over the bank's communications strategy as its leaders sought to work out the aftershock of Brexit. 
More Reasons for Rate Cuts
Providing another reason for rates to be reduced, Ernst & Young predict today that business loans in the U.K. will shrink to the lowest in more than a decade in the next couple of years as economic prospects weaken following the decision to quit the EU.
Total lending to companies will contract 1.8 percent next year and another 1 percent in 2018 before finally recovering the following year, the organization said in a report released on Monday. By then, the total stock of business loans will have dropped to 376 billion pounds ($497 billion), the lowest since 2005, EY said.
Morrisons for Calm
Supermarket Morrisons said it is to cut an average of 18% from the price of 1,045 products. It did so because of consumer concern that food prices will go up following the Brexit vote.
ELECTIONS TO WATCH FOR???
How Long for a U.S Trade Deal?
While the U.K. isn't able to negotiate any bilateral trade pact until it's left the EU, it could only a take a year to strike a deal, Susan Schwab, a former U.S. trade representative, said on Friday in a conference call organized by law firm Mayer Brown.
That would be fast given the U.S.'s past performance. The average time taken for 20 deals with countries including Canada, Israel and Australia was 18 months, according to the Peterson Institute for International Economics. It also calculated the gap between the first round of negotiations to implementation averaged 45 months.
On the Markets

And Finally...



For Related News and Information:
For more on Brexit follow Bloomberg on Twitter, Facebook and Instagram, and see our full coverage at Bloomberg.com
Before it's here, it's on the Bloomberg Terminal.
LEARN MORE