Billionaire's Selldown Adds to Puzzle on What's Up at Minsheng
Bloomberg News
Liu trimming stake follows Lu Zhiqiang doubling his holding

Analysts puzzle over significance of shareholders' moves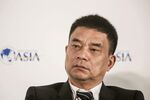 Pig-feed billionaire Liu Yonghao trimmed his stake in China Minsheng Banking Corp., adding to the puzzle over shareholders' intentions for China's largest privately owned lender, which is valued at about $48 billion.
Liu's New Hope Group Co. sold 19 million A-shares last week for about 182 million yuan ($27 million), cutting his holding to 4.94 percent from 5 percent, according to a filing to Hong Kong's stock exchange on Friday. He's the second-largest shareholder, based on public filings.
JPMorgan Chase & Co. analysts speculated last week that New Hope could be among major shareholders competing for greater representation on the lender's board ahead of a looming -- and overdue -- reshuffle of directors.
Shares of Minsheng fell 1.2 percent in Hong Kong as of noon local time, compared with a 0.3 percent decline in the Hang Seng Index.
Minsheng Vice Chairman Lu Zhiqiang doubled his stake this month to 4.6 percent and two shareholders -- Orient Group Inc. and Huaxia Life Insurance Co. -- last month struck a deal to act in concert. Those moves fueled speculation on what plays could be possible at the lender, which has Anbang Insurance Group Co. as its biggest shareholder.
"It's hard to figure out what exactly is going on," said Richard Cao, a Shenzhen-based analyst at Guotai Junan Securities Co.
Founded in 1996 by 59 private investors including Lu and Liu, the bank has faced challenges including former President Mao Xiaofeng resigning early last year amid an investigation by the authorities.
Lu said last week that he was acting alone in boosting his stake and wasn't mounting a challenge to Anbang.
— With assistance by Jun Luo
Before it's here, it's on the Bloomberg Terminal.
LEARN MORE