business
Banks Face Brexit Bill of $66,000 Per U.K. Employee Moved Abroad
By
Synechron analysis includes relocation, rent, redundancy costs

Banks have threatened to move thousands abroad after U.K. vote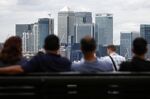 The cost for banks wanting to move their U.K. staff abroad after Britain decided to leave the European Union is 50,000 pounds ($65,660) per employee, according to consulting firm Synechron Inc.
Synechron's analysis, which was published Monday, included the cost of relocating staff, hiring and firing other employees and setting up new offices in cities that could include Amsterdam, Dublin, Paris or Frankfurt.
Executives at Citigroup Inc., Goldman Sachs Group Inc. and HSBC Holdings Plc have all said that Brexit would require them to relocate employees to the continent to maintain unfettered access to the EU's single market. If JPMorgan Chase & Co.'s Jamie Dimon follows through on his warning that as many as 4,000 staff may need to depart Britain, that could cost the U.S. bank as much as 200 million pounds.
Central to their concern is the issue of passporting. Under EU law, a bank incorporated in any member state can sell its products and services in all 27 others, thus accessing a $19 trillion integrated economy with more than 500 million citizens. It's a regime that allows even the largest banks to get by with only satellite offices in capital cities like Paris and Madrid, and none at all in many other EU countries, keeping the overwhelming bulk of staff in London.
"Financial passporting is vital to the work many banks undertake across Europe and they will have to think carefully about which city within the EU their interests and their clients' interests will be best served," said Tim Cuddeford, a London-based member of Synechron's business consulting group. 
Some of Europe's secondary business centers are eyeing the spoils of the British referendum result, making a pitch to businesses large and small that want to secure access to the single market. In London's financial district earlier this month, a truck was spotted carrying a billboard with the words "dear startups, keep calm and move to Berlin."
Sign up to receive the Brexit Bulletin, a daily briefing on the biggest news related to Britain's departure from the EU.
Before it's here, it's on the Bloomberg Terminal.
LEARN MORE