After Gloating, Convention Democrats Face Their Own Unity Problem
Supporters of Bernie Sanders have flooded into Philadelphia.
By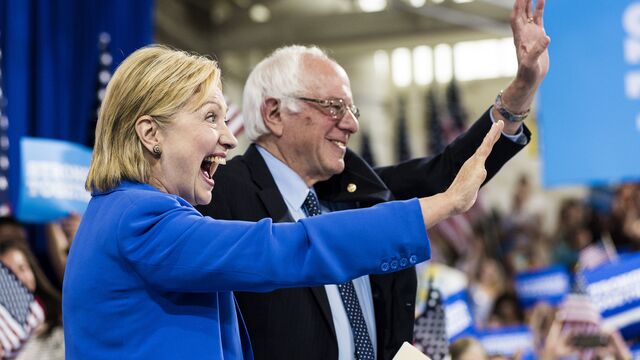 The Democratic National Committee gloated as Donald Trump struggled to project Republican unity during his national convention, but they are now facing a similar problem after their leader resigned on the eve of their own gathering.
Chairwoman Debbie Wasserman Schultz was booed by pro-Bernie Sanders protesters on Monday during her remarks to delegates from her home state of Florida at the Democratic National Convention in Philadelphia, a day after leaked e-mails showing party staffers favoring Hillary Clinton over Sanders during the primary drove the chairwoman to resign, effective at the end of the week's gathering.

The protesters held pro-Sanders signs and others saying "e-mails" in an apparent reference to the leak. Wasserman Schultz attempted to speak over the jeers about a recent shooting in the state and about Florida's importance as a battleground in the election, before she eventually left the stage.
Former DNC chairman and Pennsylvania governor Ed Rendell said Monday on MSNBC that Wasserman Schultz should probably cancel her planned address to the convention "for her own good."
It remains unclear whether Sanders and his supporters—hundreds of whom marched against the "rigged election" on Sunday—will unite as millions of Americans watch the convention this week, starting with the Vermont senator's address to the convention Monday night.
"In this political year, no party is free of drama," said Mitch Ceasar, Democratic Party chairman in Broward County, Florida, where Wasserman Schultz lives.
Different Approaches
Trump and Clinton both face serious threats to their ability to fight the general election with the full force of their parties behind them, but they approach the challenge very differently. 
Whereas Trump openly wonders whether he even needs the support of the Republican National Committee, former GOP presidents, so-called super donors or Ted Cruz, the runner-up in the primary fight, Clinton has been operating from a proverbial manual of best practices, checking off a to-do list that has been polished after decades in national politics.
But the surprise release of 20,000 e-mails by Wikileaks on Friday threatened to lay waste to months of Clinton campaign maneuvering to bring Sanders and his supporters on board.
Trump led Clinton by 3 percentage points, 48 percent to 45 percent, in a national CNN/ORC poll taken July 22-24.
Unlike Trump's ragtag slate last week, her convention line-up includes a who's-who of Democratic star power: President Barack Obama, Vice President Joe Biden, Senator Elizabeth Warren and Sanders will all be making high-profile speeches this week.
The protests at each convention could also serve as a contrast. While the animosity between the Never Trump loyalists and supporters of the nominee played out in a brief outburst during a roll call vote, Ted Cruz was booed off stage for refusing to endorse Trump. 
Clinton, meanwhile, will face a larger contingent of Sanders supporters, many of whom have arrived in Philadelphia decked out in Bernie shirts, hats, and pins, and plan to be on the floor of the Wells-Fargo Center. 
Chanting "Hey-hey, ho-ho! HRC has got to go!" a procession of more than 1,000 Sanders loyalists marched through downtown Philadelphia, letting it be known that keeping quiet this week is not part of the program. 
In an attempt to repair some of the damage from the e-mails, Donna Brazile, a longtime Democratic strategist who's set to take over as interim head of the DNC issued an apology.
"I apologize to not only Senator Sanders but all of the other individuals, our donors, our volunteers," Brazile said Monday on ABC's "Good Morning America."
Beyond Party
While conventions are about pulling the party together, the rest of the election is about winning over independent voters. In this battle, too, Trump and Clinton have broad strategic differences. 
Trump, running his first political campaign, is testing a new kind of political chaos theory based on individualism, anger and, most importantly, his own brute star power. His convention earned high marks for speeches given by his children, and featured several business associates and employees of Trump businesses. 
Trump's deviation from the usual script—call it his long-shot strategy versus Clinton's sure-shot strategy—seems to have won over Republican elites even as he has trailed in the polls and seemed more interested in jolting his base rather than convincing a broader coalition of voters to join him.
Many Republicans, including party chairman Reince Priebus, appeared resigned to Trump at last week's Republican convention in Cleveland while also hoping that he would reach out to the Latino voters who can help him compete.
"Look, we've we've tried the buttoned-down approach, right?" he said at a Bloomberg Politics breakfast last week. "We've done that. We've become a great midterm party. But we haven't been able to tap the culture."
Russ Schriefer, a senior adviser to Mitt Romney's 2012 presidential campaign, is skeptical that Republicans have a winning combination. Four years ago, Romney won white women by 14 percentage points over Obama and was still routed the electoral college. Trump is winning white women by just a fraction of that, public polls show.
"If you're only up by plus-four among white women, there's just not enough white men to make that up," Schriefer said in an interview. "And then the math just starts to fall apart."
But liberal observers like Clay Shirky worry Trump's peculiar approach may be lulling the Democratic base into a false sense of security. The geographic divide in America—with Democratic voters increasingly likely to live in and around cities, and Republicans in more rural areas—means liberals are unlikely to know anyone voting for Trump.
"I'm not saying Trump will win, but I think it's a bigger possibility than a lot of liberals have let themselves believe," Shirky said in an interview.
In an urgent series of posts on Twitter on Saturday, Shirky said Trump's path was to "whip up white rage unchallenged," convince more women to back him, and benefit from low turnout among minorities in Republican-leaning states.
"I understand the impulse to look at the numbers and say Trump can't win, but I don't trust that pollsters actually understand the American electorate anymore," Shirky said.
Enter Kaine
The different approaches to winning over undecided and independent voters was also apparent this weekend when Clinton named Tim Kaine, a U.S. senator from Virginia, as her running mate.
When Clinton brought Kaine on to a Miami stage on Saturday to introduce him as her running mate, the U.S. senator looked like the happiest man in America.
A wide smile, stretched across his face, was present for most of the next hour. Standing next to the presumptive Democratic presidential nominee, there weren't enough ways for him to wave and interact with the audience: One arm extended as high as possible into the air, palm and fingers spread wide. Fingers interlocked, hands clasped and shaking in victory.  Hands pressed together, as if in prayer, gently rotating at the wrist toward the crowd. Fist pumps. Many, many fist pumps.
Kaine sat right behind Clinton as she spoke, giddy and swiveling in his seat as he pointed to friends in the Miami crowd on Saturday.
It was a scene that contrasted starkly in theme and tone to the roll out of the Republican ticket a week earlier in New York, where Trump introduced Indiana Governor Mike Pence as his running mate. The two Republicans shared the stage long enough for an awkward handshake, but otherwise kept their distance.
Trump took the stage alone, and spoke for two-thirds of the time. That time difference was reversed for Clinton and Kaine. In his free-wheeling speech, Trump delighted in the weak endorsement Pence gave to Cruz during the primary race there. "We went in there and neutralized the guy," Trump's campaign co-chairman, Paul Manafort, said days later in Cleveland about blunting the impact of Pence's endorsement.
Despite these widely varying approaches, the race looks like a jump ball for the moment, said Ed Rogers, a Republican strategist.
"If Democrats had nominated a non-criminal, fresh face they probably would have a double-digit lead right now," Rogers said in an interview on Bloomberg Politics' "With All Due Respect" on Friday. "If Republicans had nominated a well-adjusted, articulate, poised soul, then they would probably have a comfortable lead."
-- With assistance from Nour Al Ali and Ben Brody.
Before it's here, it's on the Bloomberg Terminal.
LEARN MORE