Turkey Open For Business With Purges Nearly Over, PM Says
By and
Prime Minister rules out early elections as economic risk

Yildirim says purges nearly over, but army reform to continue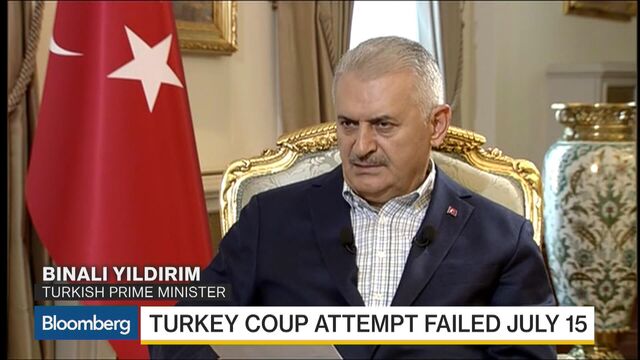 Aiming to limit the economic fallout from this month's failed coup, Turkish Prime Minister Binali Yildirim ruled out early elections and said the government plans a multibillion-dollar infrastructure fund to keep growth on track.

Turkey's currency, stocks and bonds gained after the premier said in an interview that the purges of those allegedly implicated in the putsch, which have spread concerns that President Recep Tayyip Erdogan was taking advantage of the upheaval to neutralize opponents, are nearing an end.
"Here is what we are telling global investors: Life is back to normal in Turkey," Yildirim said, speaking at his official residence in Ankara on Sunday.
For a QuickTake explainer of the events in Turkey, click here.
The failed attempt July 15 by military officers to seize power left about 250 dead, shocked markets, drove the currency to a record low and sent stock prices down. Sweeping purges of those accused of complicity have reached far beyond the military, with educators and corporate executives also removed from their positions. A total of 13,165 people were detained on suspicions of involvement in the plot or links to Fethullah Gulen, the U.S.-based Islamic cleric that the government has blamed for inciting the uprising. Gulen has denied any involvement.
'Wealth-Management Fund'
The economic impact of the upheaval has been limited mainly to financial markets and a downgrade of Turkey's credit rating by S&P Global Ratings. Moody's Investors Service has put the country's debt on review for a possible downgrade.
Morgan Stanley said in a report on Monday that while their base case is for Turkey to keep its rating, "we believe that it is now a very close call."
Markets are showing signs of recovery. The lira strengthened 0.8 percent Monday to 3.0401 to the dollar, its third advance in a row, and the Borsa Istanbul 100 Index for stocks was the world's best performer, rising 3.4 percent. The stock market is still down around 10 percent from before the coup and the currency is down about 4.6 percent.
The yield on the benchmark 10-year bond closed Monday at 9.87 percent, down from 10.04 percent Friday, but up from about 9.1 percent below the failed putsch.
"It has not been a devastating effect," Yildirim said, noting the government is committed to keep strong growth on track. He provided few details on the new "wealth-management fund," beyond saying it would be worth "tens of billions of dollars" and would not threaten the country's low budget deficit.
Click here to watch an excerpt of Yildirim's interview with Bloomberg.
"It's a structure that will finance large-scale projects," he said. "We are going to finance investments through this fund instead of the general budget." In 2013, the government considered using money earmarked for future unemployment benefits to create a fund for strategic projects, but that plan didn't get off the ground.
This time, the government also expects Turkish banks to play a role in keeping growth strong, he said.
"Our banks will shift to a mentality of loans directed towards economic growth without capitulating on their lending criteria," Yildirim said. "If necessary, preferential interest rates will be applied to investments in priority areas, while the difference will be paid for by the state's loan-guarantee fund."
No 'Ambush Elections'
Turkey's economy, the largest in the Middle East, has consistently beaten estimates since the end of 2014, powered in large part by consumer spending owing to millions of refugees displaced by the civil war in Syria. The economy grew 4.8 percent in the first quarter of this year and 5.7 percent during the preceding three months, the fastest expansion among the G-20 top economies after China and India, according to data compiled by Bloomberg.
Yildirim, 61 years old, took office two months ago. He said what he called "ambush elections" would only cloud the outlook, adding that the next poll would be held as scheduled in 2019.
"We have no time to lose with an election," he said. "For us, an election means slowing down the economy, reducing visibility and halting plans of the government for the future."
Erdogan's AK Party lacks the votes needed in parliament to make constitutional changes to impose a presidential system that would give him greater control. Many observers had expected him to take advantage of the surge in popularity he's enjoyed since the failure of the coup to seek early elections and more support in parliament.
"Under the presidential system, there would be no one attempting such an adventure," Yildirim said, referring to the failed coup. "Because then an absolute political will would be in charge."
Army Overhauls
Yildirim said the military, which has overthrown the government three times since 1960, needs further overhauls.
"There is a serious need to restructure the Armed Forces," Yildirim said. "We've seen during the coup-attempt that there is a security weakness, there are some problems in the chain of command."
The government is also investigating intelligence failures prior to the coup attempt to determine if there was any neglect or intentional oversight, he said, when asked whether the government was considering removing the intelligence chief or the top military commander from office.
Purges Abate
But the sweeping removals and arrests that have followed the coup are nearing their end, Yildirim said.
"Most of those involved in this coup attempt have been handed over to justice and I don't think there is a high number of people" implicated who remain at large, he said. The government would come down "like a sledgehammer" on any future efforts to challenge it, he added.
The government last week declared a three-month state of emergency and ordered the seizure of assets of organizations, including schools, hospitals, and foundations, linked to Gulen, the alleged mastermind of the coup attempt. "The state seized their properties but their operations won't be halted, the schools and hospitals will run under the control of the state," Yildirim said.
— With assistance by Onur Ant, Firat Kozok, Gregory Viscusi, Simin Demokan, and Dana El Baltaji
Before it's here, it's on the Bloomberg Terminal.
LEARN MORE