Japan's Exports Decline Again in June, for Ninth Straight Month
By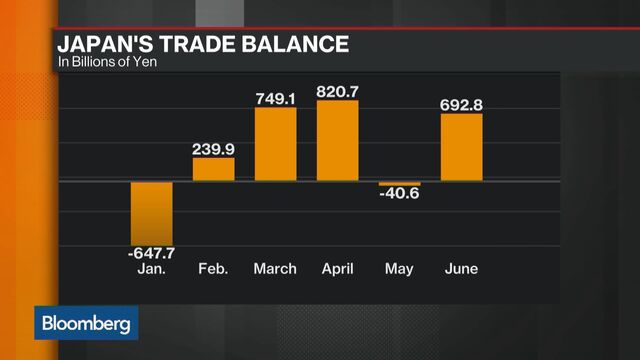 Japan's exports dropped again in June, with shipments down for a ninth consecutive month, underscoring the continuing challenge of reviving the nation's economy.
Key Points
Overseas shipments declined 7.4 percent in June from a year earlier, the Ministry of Finance said on Monday.
This was better than the median estimate of economists surveyed by Bloomberg, which pointed to an 11.3 percent drop.
Imports slid 18.8 percent, leaving a trade surplus of 692.8 billion yen ($6.5 billion).
Japan had a trade surplus of 1.81 trillion yen in the January-June period, the first surplus since the second half-year of 2010.
Big Picture
The weak exports data show that the nation's economic recovery remains tepid and come before the Bank of Japan meets later this week to consider whether to further expand monetary stimulus. Japan's growth is at risk as a slowdown in overseas demand and the yen's surge this year make the nation's products less attractive overseas and hurt the earnings of exporters. Fast Retailing Co., owner of the Uniqlo casual-wear chain, and Toyota Motor Corp. have warned about the impact of the stronger yen.

Economist Takeaways
Martin Schulz, a senior economist at Fujitsu Research Institute in Tokyo, said he sees encouraging signs in the data. There is a "bottoming out in this falling trend in exports," he said "The Japan trade balance seems to be in solidly positive territory."

Schulz cautioned, though, that the surpluses could boost the yen, putting "a lot more pressure on policy makers in Japan."
Toru Suehiro, a senior market economist at Mizuho Securities Co. in Tokyo, said the June figures were "solid," despite the yen's gains. Yet he worries about the future trend. "'Going forward, there's the downside risks to exports, and Japan's economy will likely keep facing a lack of a driver for growth," he said.
The Details
Exports to the U.S. fell 6.5 percent in June from a year earlier, while shipments to the EU declined 0.4 percent and sales to China, Japan's largest trading partner, dropped 10 percent.
While exports fell in value, volume rose 2.9 percent in June from a year earlier, the first gain in four months, according to the Ministry of Finance.
Major contributors to the decline in exports were automobiles, steel and organic compounds.
Before it's here, it's on the Bloomberg Terminal.
LEARN MORE