Hong Kong Starts Closing Auction Amid Broker Change Efforts
By
HKEx reintroduces closing auction after a seven-year break

Brokers want to amend orders in session's final minutes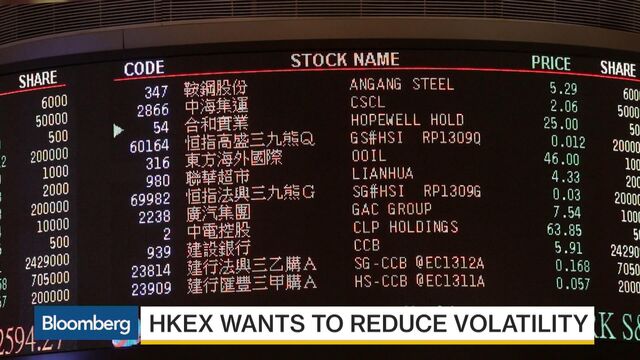 Hong Kong Exchanges & Clearing Ltd.'s new stock closing auction debuted successfully on Monday, though brokers in the city are said to be pushing for changes to the system, according to two people familiar with the discussions.
The bourse reintroduced the closing auction -- a staple of every other developed market -- in a bid to reduce volatility and deter manipulation. To do that, it restricted the ability to amend orders, which has some brokerages crying foul. They want to be able to change orders to complete more trades, according to the people, who asked not to be named because the talks are private.
The new version of the auction "has been designed after an extensive period of research of overseas practices, consultation and balancing diverse needs and concerns of the various segments of the market," Scott Sapp, a spokesman at the Hong Kong exchange, said in an e-mail. "We always welcome market participants' feedback and take it into consideration."
Sapp said restricting changes in orders will help stabilize the market and prevent sudden large price swings near the end of the close.
HKEx abandoned its previous closing auction in 2009 after HSBC Holdings Plc shares plunged about 10 percent at the end of the day. The new 10-minute session, which features a random close in the final two minutes, is similar to those used by the London Stock Exchange and ASX Ltd. in Australia.
The exchange said in a statement after Monday's close that 282 stocks traded during the auction, which saw about 2.2 percent of the day's total turnover.
Better Solution
Under the prior system, the exchange derived closing prices in the last minute of trading. The new mechanism calculates a reference price to set a 5 percent up-and-down limit for five minutes to 4:06 p.m. Hong Kong time, according to an HKEx presentation. The boundary might be further narrowed between the lowest ask and highest bid during a two-minute period when orders can't be amended. This is where brokers want to be able to change their limit orders, according to the people. A limit order sets a specific price at which a trader will buy or sell.
"It's not a 100 percent right solution, but it's a much better solution than the current market-on-close mechanism," said Neil McLean, head of trading for Asia ex-Japan at Instinet Pacific Services Ltd. in Hong Kong.
The initial stage of the auction includes Hong Kong's biggest companies, local shares of firms listed in mainland China and exchange-traded funds. HKEx will review its performance and plans to include all securities in the next stage, said Sapp.
The largest traders will likely stay away for the first few weeks, Ofir Gefen, Asia-Pacific head of electronic brokerage at Investment Technology Group Inc., said in a client note.
"Expect average volumes at the close to rise significantly post-launch as long as all goes well," he said.