China Seeks Intensified Coordination But U.S. Plays It Cool
Bloomberg News
U.S. Treasury chief Lew, Chinese finance minister met at G-20

Concern about yuan fades as Brexit and Turkey climb worry list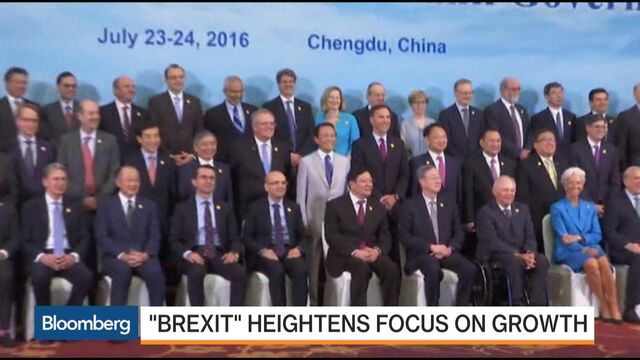 Chinese and U.S. officials at the weekend's Group of 20 finance ministers' meeting showed signs of being at odds on how synchronized efforts to boost global growth need to be, with China stressing the need for improved coordination more than the U.S.
U.S. Treasury Secretary Jacob J. Lew on Thursday talked down the need for crisis-level coordination as he headed to Chengdu, China, for the meeting. On Friday, Chinese policy makers added urgency to their earlier call to strengthen efforts across the globe to break down a prolonged period of sluggish growth.
"G-20 countries should intensify consultation and coordination, forge policy consensus, and guide market expectation," Chinese Finance Minister Lou Jiwei said Saturday at a symposium kicking off the meeting. He repeated comments from President Xi Jinping that it's "vitally" important for the group to enhance how it works together, adding that the "global economy is at a critical conjuncture" as the "impacts of the international financial crisis are still unfolding."
On Friday, Premier Li Keqiang said that against the backdrop of rising protectionist pressures and increasing challenges in international trade policy, "it is critical to enhance international economic policy coordination."
It's unclear if China is calling for the same level of policy coordination seen in 2008 and 2009, or what kind of commitment it wants from the G-20. The group isn't at a stage of heated discussions over how policy coordination should take place, according to a Japanese Finance Ministry official who declined to be identified, citing ministry policy. The G-20 agrees on using all available policy tools depending on the economic situation of each nation, the person said.
G-20 finance chiefs and central bankers met amid uncertainty from the fallout from Britain's surprise vote in June to leave the European Union. The International Monetary Fund last week cut its outlook for 2016 global growth for a fourth time, and said risks to projections have increased significantly since the Brexit vote. Policy makers in China also wrestled with how to address political developments in Turkey in the G-20 communique.
'Bright Spot'
The communique addressed challenges with excess capacity in the steel sector, among other industries, emphasized the importance of shared and inclusive growth in light of Brexit and the shift away from globalization in western countries, and strengthened language to use all tools available -- monetary, fiscal and structural -- to promote growth.
While world growth is stuck in the slow lane, China faces a transition to lower growth and a shift from an old-model economy fueled by debt and investment, to one led by consumers and services.
The U.S., however, is "a bright spot" in a world with a lot of uncertainties, Lew told reporters Saturday in Chengdu. He emphasized the need to "redouble" efforts to use all policy tools available to boost shared growth. At the same time, Lew said ahead of the meeting that he didn't think "this is a moment that calls for the kind of coordinated action that occurred during the Great Recession in 2008 and 2009."
Lew's comments on focusing on shared growth initiatives were echoed by other finance chiefs at the G-20. In interviews with Bloomberg TV, Australia's Scott Morrison said close coordination is necessary for tax policy, while Canada's Bill Morneau said countries will do "different things based on their individual situation." Indonesia's Bambang Brodjonegoro emphasized that G-20 commitments aren't binding.
Shanghai, Chengdu
China too has been a bright spot. While the yuan and slowing growth were in the spotlight at the February finance chiefs' meeting in Shanghai, market volatility has largely ebbed since then. In Chengdu, new concerns about Brexit, anti-globalization and terrorism were much more of a source of concern than China's growth, which stabilized in the second quarter with a second-straight 6.7 percent year-on-year expansion.
Lou's co-host, People's Bank of China Governor Zhou Xiaochuan, the longest serving G-20 central bank chief, made no public appearances in Chengdu. The calm surrounding China's currency, markets and economy at this meeting contrasted with the Shanghai gathering, where Zhou stepped up to reassure investors with a speech and press conference to address fears about flagging growth, currency volatility and lack of policy communication.
A U.S. Treasury official who briefed reporters on the condition of anonymity ahead of the meeting said China is moving toward market-driven foreign exchange policies, and it's not fair to say a weaker yuan in recent months was fundamentally driven by policy decisions. The official said China has intervened to prevent further yuan devaluation, which is different from intervening to promote a weaker exchange rate.
In Zhou's only remarks last weekend, he was quoted in an official statement as saying the yuan is stable against a basket of currencies and "market confidence is firming." Separately, PBOC Deputy Governor Chen Yulu, speaking Sunday at a conference in Beijing, saying policy makers will work hard to stabilize the yuan against the basket and enhance international monetary policy cooperation and coordination.
The central bank overhauled its foreign-exchange mechanism last year to give the market a greater role in determining the exchange rate. The PBOC has said it measures the yuan against a basket of 13 currencies and factors that into the daily reference rates.
"It's a positive sign that the new policy has really made the yuan a non-issue" in G-20 meetings, said Tim Condon, head of Asia research at ING Groep NV in Singapore. That signals "China's exchange rate policy is fine with the rest of the world".
— With assistance by Saleha Mohsin, and Yinan Zhao
Before it's here, it's on the Bloomberg Terminal.
LEARN MORE