Buying the Deepest Stock Dips in 2016 Returned Three Times S&P 500
by
A strategy of trading 'oversold' shares is up 28 percent

Stock market resilience has led to multiple S&P 500 rebounds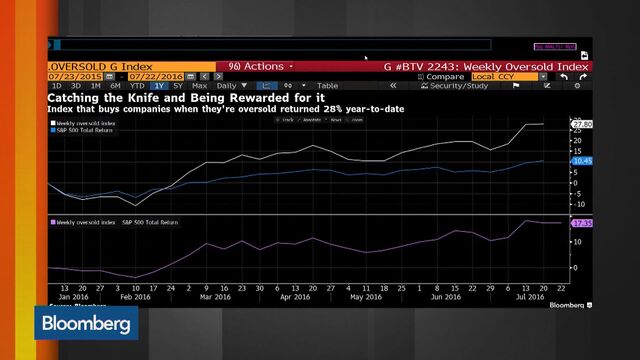 It's been a great year for catching falling knives.
The buy-the-dip strategy that's been a hallmark of the U.S. stock rally is outdoing itself in 2016, where buying stocks in the most extreme state of free fall is paying like rarely before. An index tracking shares in the Russell 3000 Index that register as "oversold" on a momentum metric is up 28 percent, according to data compiled by Bloomberg.

The durability of strategies focusing on momentum reversals is a gift to traders who've been otherwise hamstrung in a market that just spent 13 months going nowhere before breaking to a new high earlier in July. From the 11 percent decline in first two months of the year to the 5.3 percent drop after Brexit, U.S. companies have been quick to shake off losses tied to the economy, earnings and global turmoil.
"We've gone from an investor's market to a trader's market, so you basically have to sit there and rely on technicals," said Tom Siomades, head of $76 billion Hartford Funds Investment Consulting Group in Radnor, Pennsylvania. "We've traded in a range the past year and when people see dips they put that cash to work. It's not an optimal way, but you can definitely generate returns."
The U.S. equity market has proven so resilient this year that even strategists who foresaw the inclement investing environment are ending up on the wrong side as the S&P 500 tallies record highs. Rocky patches along the way were brushed over by steady, positive U.S. economic data and assurances of loose monetary policy by central banks.
This year has been especially ripe for betting on share price recoveries, as deep, prolonged selling at the start of the year and a sharp plunge after the U.K. referendum sent a wide swath of the stock market plunging.
So far this year there have been 10 days in which at least 20 percent of companies in the S&P 500 traded with relative strength levels of less than 30, a metric used by technical analysts to determine when a stock has fallen too far, too fast. There were only three such days last year and 10 throughout all of 2014. 
An investing strategy of buying Russell 3000 companies trading at an RSI under 30, and resets the basket every week to remove those no longer meeting the criteria, returned 28 percent this year. The basket gained 18 percent by April 20 and another 12 percentage points in the wake of the Brexit vote.
The strategy, which is purely hypothetical and omits trading costs, captures companies from just about every corner of the stock market, a testament to the widespread nature by which investors abandoned equities this year. And while the universe of companies is diverse, the timing needed to articulate such a strategy would be tricky.
Kinder Morgan Inc., for example, slid to $12.95 a share and an RSI of 26.9 on January 13. Two weeks later, the stock emerged from "oversold" status after climbing to $14.22, a 9.8 percent advance. Genworth Financial Inc., down 29 percent in the two weeks after Brexit, saw its RSI drop below 30 on July 5. The shares then climbed 17 percent in the next week before moving back above 30.
"When there is a lot of doubt during crises you buy weakness not sell weakness," Michael Block, chief strategist at Rhino Trading Partners LLC in New York, said by phone. "There was caution on the part of value investors going into the year and the ones that used their dry powder in February were rewarded, and they've repeated that."
Before it's here, it's on the Bloomberg Terminal.
LEARN MORE