Turkey Rejects Reference to Its Developments at G-20 Meeting
Bloomberg News
G-20 draft communique indicates discussion over Turkey

Germany's Schaeuble expresses concern about Turkey events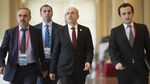 Turkey rejected any reference to its political developments in a Group of 20 communique being finalized at a gathering of finance ministers and central bank governors in China Saturday.
The meeting coincides with a continuing crackdown by President Recep Tayyip Erdogan and his government against political opponents in the aftermath of a coup attempt earlier this month. German Finance Minister Wolfgang Schaeuble told reporters in Chengdu, China, that he would express great concern about developments in Turkey to Deputy Prime Minister Mehmet Simsek, who is also attending the sessions.
A draft communique obtained by Bloomberg showed bracketed references to Turkey, indicating disagreement among the G-20 members over the language. Simsek made clear his country's opposition to any such inclusion.
"The G-20 final communique is about global economic issues -- there will be no reference to what has been lived in Turkey. We've no such attempt," Simsek said in a posting on his Twitter account.
The draft document otherwise mainly reiterated previous priorities for the G-20, which groups the world's top emerging and developed nations. The group repeated that "excess volatility and disorderly movements in exchange rates have adverse implications for economic and financial stability. We will consult closely on exchange markets."
Brexit concerns are also weighing on the group, which said in the draft communique that it's capable of dealing with the fallout. For his part, Schaeuble said the damage from the U.K.'s plans to leave the European Union need to be kept as small as possible, while saying that there are no signs that Brexit is generating currency volatility.
The disputed language on Turkey, as indicated by the use of brackets in the draft communique, reads as follows:
"It is also important to maintain the economic and financial stability in Turkey," added in squared brackets to second paragraph of draft communique, before reference to risks stemming from U.K. referendum on EU membership
"Strengthening the rule of law is fundamental for sustainable development and we support the legitimate government of Turkey in its endeavors to enhance economic stability and prosperity," added in brackets as third paragraph, followed by note that "Turkey would like to share its opinion with the G-20 ministers and central bank governors"
— With assistance by Saleha Mohsin, and Selcan Hacaoglu
Before it's here, it's on the Bloomberg Terminal.
LEARN MORE