World's Longest Plane Search to Be Suspended as MH370 Hopes Fade
by
Malaysia Airlines Flight 370 went missing on March 8, 2014

Investigators almost finished search area in $134 Million Hunt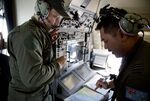 Authorities looking for Malaysia Airlines Flight 370 said the chances of finding the jet are fading and the hunt will stop once the search area has been completed.
Recovery operations in the southern Indian Ocean will be suspended after ships finish scouring the 120,000 square-kilometer (46,330 square miles) zone, ministers from Malaysia, China and Australia said in a statement Friday after meeting outside Kuala Lumpur.
"This does not mean that we have given up," Malaysian Transport Minister Liow Tiong Lai said at a media conference. "If there is credible new evidence, we will continue to work together to analyze that evidence."
The Boeing Co. 777 jet disappeared on March 8, 2014, en route to Beijing from Kuala Lumpur with 239 people on board. More than 90 percent of the search area has already been covered.
Wild winter weather and waves more than five stories high have delayed the A$180 million ($134 million) mission in the Indian Ocean. An original mid-year search completion target has been pushed back to as late as December, Liow said at the media conference.
The first debris from MH370 was found on Reunion Island in July 2015. Four other pieces that turned up on Africa's eastern seaboard and in Mauritius almost certainly belong to the doomed jet, according to investigators. 
"Despite the best efforts of all involved, the likelihood of finding the aircraft is fading," according to a joint statement by the three countries.
Before it's here, it's on the Bloomberg Terminal.
LEARN MORE