Verizon Still an Ad Laggard to Google, Facebook After Yahoo Deal
by
Skeptics call it 'laughable,' fans like opportunistic move

Mobile user data, location, interests give carrier a chance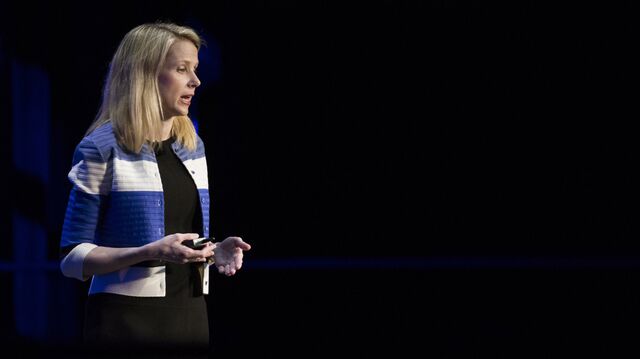 Verizon Communications Inc. is about to double the size of its toehold in digital advertising with the purchase of Yahoo! Inc. Even so, the wireless company will still be a distant No. 3 behind Google and Facebook Inc. in the $187 billion market.
Verizon could announce an agreement to buy Yahoo's internet business for about $5 billion in the next few days, according to people familiar with the situation. A deal would advance Chief Executive Officer Lowell McAdam's plan to make Verizon a powerhouse in mobile media.

Telecom giants and Internet service providers are trying to move beyond just selling access to other potentially more valuable services. AT&T Inc. acquired satellite TV company DirecTV and Comcast Corp. bought broadcast and movie company NBCUniversal. Verizon has chosen to focus more on mobile content and advertising.
While Verizon sits atop the mobile industry as the largest U.S. wireless carrier, sales and subscriber growth have started to plateau. To find new sources of growth, the New York-based company has expanded into new markets like connected cars, telemedicine and streaming video.
The search included the $4.4 billion purchase of AOL last year. If it gains Yahoo, Verizon will have spent almost $10 billion for the right to chase ad leaders Google and Facebook. It has some advantages: a carrier's view into your phone location, buying habits and interests like favorite sports teams to better target ads. But Verizon is still perilously outmatched.
"The idea that buying Yahoo somehow positions Verizon to compete against Google and Facebook is laughable," said Jonathan Chaplin, an analyst with New Street Research LLC. Unlike its superiority as a wireless carrier, "it's Yahoo and AOL businesses are the complete opposite," he said. "There are no barriers to entry and it is extremely fragmented and competitive."
Ad Engine


Still, AOL gave Verizon a new tool and a potential new revenue stream in automatic ad insertion, a faster way to match ads to ad buyers.
"Verizon is impressed with the ad engine it got with AOL," said Jeffrey Kvaal, analyst with Nomura Securities International Inc. "The question is, how do you get more scale and Yahoo might be the best avenue for that."
Yahoo brings more than a billion monthly active users, a smaller but fast-growing mobile business and ad technology assets such as BrightRoll, a provider of tools for buying and selling video ads in more automated ways. It also owns Flurry, an analytics business.
Financially, Yahoo is a relatively low-risk investment which could pay off well, Kvaal said.
Verizon has location data and is gathering subscriber viewing habits "that may be appealing to some advertisers," Kvaal said.
In-roads to mobile media like Go90, Verizon's free video-streaming service aimed at phone-totting teens, have not yet generated the sort of viewership that could be considered a challenge to YouTube or Facebook Live. That hasn't stopped Verizon's push. The company has said it plans to add more scripted shows, live concerts and sports to attract users.
Gold Standards
Verizon reports second-quarter earnings Tuesday and is expected to offer skeptical analysts and investors an update on some of the viewer participation that it has gained with Go90. Verizon has not disclosed how many users it has for the service, which started in December.
Early stumbles and sputtering are to be expected as Verizon attempts a major strategic shift, said Rosabeth Kanter, a professor at Harvard Business School who has studied the company's management strategies for a decade.
"Wall Street is good at counting, but not good at imagining. You don't get results right away. Verizon is positioning itself to seize opportunities," Kanter said. 
"Google and Facebook are the gold standards today, but they will start to hit their own limitations," Kanter said. "No one remains on top forever."
Before it's here, it's on the Bloomberg Terminal.
LEARN MORE