Munich Shooting Suspect Found Dead as Carnage Shakes Germany
by and
Civilians stranded as public services halted, city in lockdown

Incident follows ax attack on Monday in northern Bavaria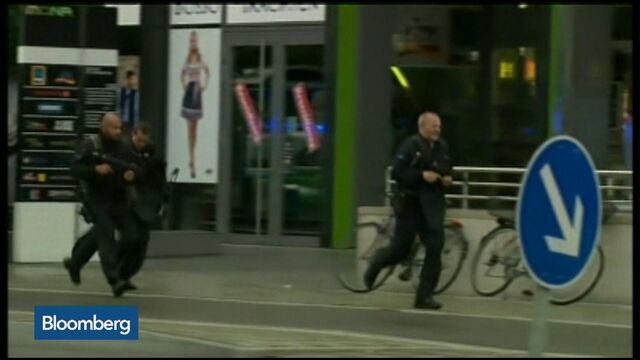 Police in Munich identified the suspect in a shooting in which nine people died as an 18-year-old German-Iranian man who killed himself after a siege lasting several hours.
The alleged perpetrator, whose body was found a short distance from the scene, was most likely acting alone, Hubertus Andrae, the head of the city's police department, said at a press conference. He ruled out accomplices after earlier reports suggested several shooters were on the loose. Police have not yet established a motive.

At least 16 people, some of them children, were wounded in the attack that caused mass panic as authorities shut down public transport services and the city went into lockdown, leaving hundreds stranded. Police issued a terror alarm and told residents to stay indoors. The main train station was evacuated as federal police and special forces joined in the manhunt.
Heightened Tension
The incident occurred amid heightened tension in the country following an attack on Monday near the Bavarian town of Treuchtlingen in which two people were critically injured with an ax on a train by a 17-year-old Afghan refugee, whom police later shot and killed.
"Whether this was a terror attack or someone running amok will be determined by the motive," said Andrae, declining to draw a parallel to Monday's assault. The shooting "makes us sad, speechless and our thoughts are with the families and friends," he said.
Peter Altmaier, Chancellor Angela Merkel's chief of staff, said Germany's Federal Security Council -- which includes Merkel, Altmaier, Foreign Minister Frank-Walter Steinmeier, Defense Minister Ursula von der Leyen and Interior Minister Thomas De Maiziere -- will meet Saturday to assess the situation.
The attack caught the government out of position, with German news agency Deutsche Presse-Agentur reporting Merkel wasn't able to attend a crisis meeting Friday at the chancellery. De Maiziere broke off a trip to the U.S. to return.
"We grieve for the victims and our thoughts are with their next of kin," De Maiziere said in an e-mailed statement.

Munich Olympics
The shooting occurred at the Olympic Shopping Center, located about 5 kilometers (3.1 miles) northwest of the city center. The mall, built for the Munich Olympics in 1972, is close to the site where eight armed Palestinian nationalists took hostage and killed 11 members of the Israeli team during the games. The nearby Olympic Park is a major tourist attraction in Munich, which draws millions of visitors every year. Many had traveled there to attend the Toolwood summer festival that was subsequently canceled amid the mayhem.
Authorities organized emergency accommodation for people stranded in the city as public services resumed in the early hours of Saturday. Government buildings and mosques are staying open all night to offer refuge, and the Twitter hashtags #offenetuer and #opendoor are being used to guide people seeking a place to stay.
The shooting, which happened just before 6 p.m. local time, came on the fifth anniversary of the mass shooting and bombing in Norway by Anders Behring Breivik that left 77 people dead.
U.S. President Barack Obama expressed condolences in remarks at the White House on Friday. "Germany's one of our closest allies so we are going to pledge all of the support that they may need in dealing with these circumstances," he said.
Before it's here, it's on the Bloomberg Terminal.
LEARN MORE