economics
U.S. Stocks Cap Four-Week Rally With S&P 500 Marking Fresh High
By and
Phone companies, utilities lead climb back to record

Equities overcome disappointment with GE, Honeywell results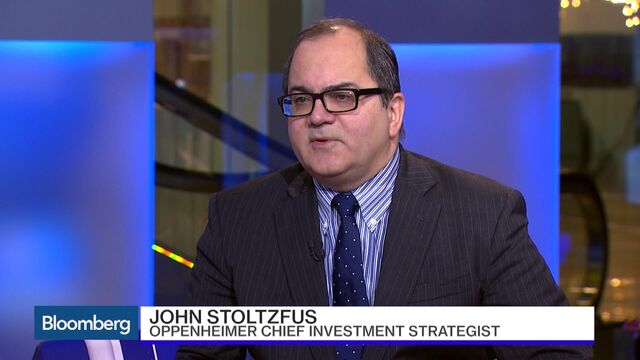 U.S. stocks rose, sending the S&P 500 Index to a fresh record, as investors showed confidence corporate earnings will not derail a rally that's headed toward a fifth week.
Equities rebounded as some of the week's best performers were among the biggest contributors to Friday's climb. Microsoft Corp. and Biogen Inc. added to their strongest weekly increases since at least March. Verizon Communications Inc. rose 1.3 percent as it's said to be near a deal to buy Yahoo! Inc. Gains were tempered by disappointment that followed earnings from General Electric Co., Honeywell International Inc. and Apple Inc. supplier Skyworks Solutions Inc.
The S&P 500 rose 0.5 percent to 2,175.03 at 4 p.m. in New York, a seventh all-time high in the last 10 sessions after going more than 13 months without one. The benchmark gained 0.6 percent this week, the smallest such advance in its four-week run. The Dow Jones Industrial Average added 53.62 points, or 0.3 percent, to 18,570.85, and the Nasdaq Composite Index increased 0.5 percent. About 5.6 billion shares traded hands on U.S. exchanges, 21 percent below the three-month average.
"It's been a bit of a mixed bag, but you have to say that the earnings reports have been positive overall," said Chuck Self, chief investment officer of iSectors LLC, an Appleton, Wisconsin-based asset manager. "There's certainly no trend to the negative in the earnings reports at all. There is a question of valuations out there and with interest rates so low, it's hard to figure out whether it's true to value."

The S&P 500 closed with the longest stretch of weekly gains since March. The benchmark on Wednesday posted its sixth record in eight sessions, while the Dow rose for nine straight days, its longest rally since 2013, before halting the advance Thursday. Speculation that central banks will act to cushion any fallout from the U.K.'s vote to leave the European Union, and signs of a strengthening U.S. economy have propelled stocks higher in recent weeks.
Earnings Watch
The earnings season has also spurred optimism corporate results will support equities near records. About a quarter of S&P 500 firms have released figures so far, of which 82 percent exceeded profit forecasts and 60 percent beat sales expectations. The flow is set to accelerate, with more than 180 companies scheduled to report results next week. Analysts forecast net income among S&P 500 members will slide 4.5 percent in the second quarter -- improving from a 5.8 percent drop predicted a week ago -- for a fifth straight decline.
Among shares rising after reporting results, Stanley Black & Decker Inc. rallied 4.8 percent to a record as the toolmaker's sales and profit topped estimates. The company also boosted its full-year earnings outlook. American Airlines Group Inc. rose 4 percent after its profit also exceeded predictions, helped by lower fuel prices. Southwestern Energy Co. surged 9.5 percent after posting a smaller loss than estimated, and the company boosted its production outlook.
"We've had a major rise in global equities for almost a month, this has been accelerated during the earnings season," said Christian Gattiker, head of research at Julius Baer Group in Zurich. "This is now a time of digesting these rises. Next week is really a bumper in terms of earnings, so everyone is looking at that. Overall it's been a decent earnings season so far."
While better-than-forecast data has helped push stocks to fresh highs, it has also lifted odds of a Federal Reserve interest-rate increase. Traders are pricing in a 46 percent chance of higher borrowing costs by December, up from about 21 percent two weeks ago, and a less than 8 percent probability after the two-day equity selloff following the Brexit vote.
"The turn in economic data is what the stock market move has been discounting, stronger economic news and better earnings in the second half of the year," Doug Ramsey, the chief investment officer of Leuthold Weeden Capital Management LLC, said in an interview on Bloomberg TV. "The S&P held very firm and this move off the February lows, and even more recently off the Brexit lows has been very powerful and broad."
VIX Retreats
In Friday's trading, the CBOE Volatility Index fell 5.7 percent to 12.02, sinking for the seventh time in eight days. The measure of market turbulence known as the VIX yesterday snapped its longest streak of declines in three months with its biggest climb since June 24, the day after the Brexit vote. A Goldman Sachs Group Inc. basket of most shorted shares briefly touched an eight-month high.
Phone companies rose the most, followed by utilities as all of the S&P 500's 10 main industries increased Friday. AT&T Inc. and Verizon climbed more than 1.3 percent, while AT&T had its best day in three weeks with analysts generally positive on its quarterly results. Industrials were little changed, erasing a decline after losing 0.9 percent.
Managed-care stocks in the benchmark surged to a record, buoying the health-care group. Cigna Inc. rallied 4.1 percent to a six-month high, while Humana Inc., Aetna Inc. and Anthem Inc. added at least 1.8 percent. Cigna said it didn't know when a deal to merge with Anthem would close, "if at all," after regulators sued to block the transaction. Aetna and Humana promised to fight to defend their merger.
Whirlpool, Chipotle
Among consumer-discretionary shares, Whirlpool Corp. rose 2.7 percent to the highest in three months as its quarterly results beat estimates and the appliance maker lifted the low end of its full-year profit view. Chipotle Mexican Grill Inc. advanced 5.8 percent, the strongest since January, despite missing estimates as the company continues to recover from an E. Coli outbreak last year.
Advanced Micro Devices Inc. jumped 12 percent to a four-year high, after reporting quarterly revenue growth for the first time since 2014 and forecasting another increase in the current period.
Technology companies rose, despite the group being home to the benchmark's two biggest losers today. PayPal Holdings Inc. tumbled 6.8 percent on concern about the cost implications of a new agreement between the digital payments company and Visa Inc. Skyworks Solutions sank 8.6 percent, the most since October 2014, after its quarterly gross margin was short of estimates, even as revenue and profit beat predictions.
GE and Honeywell weighed on the industrial group, losing more than 1.6 percent. GE sank after its quarterly report showed orders fell 2 percent in the second quarter -- and tumbled 16 percent when excluding the effects of acquisitions and currency shifts. Honeywell cut its 2016 sales forecast amid sluggish global growth and lower demand for energy-related products and services.
— With assistance by Camilla Naschert
Before it's here, it's on the Bloomberg Terminal.
LEARN MORE