U.S. ELECTION WRAP: Clinton VP Pick Imminent, Obama Rebuts Trump
Clinton's VP pick is imminent. Will she go with`safe' choice?
By , , and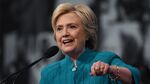 With Donald Trump drawing attention to his common ground with Sen. Bernie Sanders in a speech that careened between conservative and liberal rhetoric, Hillary Clinton is set to unveil a vice-presidential pick amid pressure to attract independents and galvanize the Democratic base.
NBC News reports plan is to announce pick today, with first joint appearance with the vice presidential candidate tomorrow in Miami

Campaign plans to announce pick via text message to supporters, Bloomberg's Margaret Talev and Billy House report

Clinton's top three VP finalists appear to be Virginia Sen. Tim Kaine, Iowan and Agriculture Secretary Tom Vilsack and N.J. Sen. Cory Booker, with Kaine seen as the favorite

Kaine has been widely pigeon-holed as a charisma-challenged "safe" pick, and the former Virginia governor doesn't disagree
"I am boring," a self-deprecating Kaine told NBC's "Meet the Press" last month. "But boring is the fastest-growing demographic in this country," he quipped

While Clinton later told CBS News' Charlie Rose that she loves Kaine's personality and noted he's "never lost an election," it's unclear if the "Feel the Bern" crowd would be satisfied with anyone outside the progressive sphere, such as Sen. Elizabeth Warren or Sanders himself
Yet Kaine could do for Clinton what Al Gore did for her husband in 1992, Sidney Milkis, a politics professor at the University of Virginia, said in an interview.

"Gore had a kind of boyscout reputation that sort of balanced people's doubts about Clinton's character, and it really worked," Milkis said. "I think Kaine would do something similar for Hillary."

Meanwhile, Trump has been openly calling for Sanders' backers to move into his camp and is pushing some ideas typically heard in labor union halls and progressive rallies, such as overhauling U.S. trade policy and breaking up big banks; Trump last night noted that Sanders also criticized Clinton over "bad judgment"
A Kaine pick would "help in a way make the baggage Hillary Clinton is carrying lighter": Milkis
The Virginian has relatively centrist record

Steven Smith, of Washington University in St. Louis, posted a chart on Twitter today placing Kaine slightly to the right of Clinton ideologically

NOTE: Kaine rose to prominence in Virginia when the now swing-state was predominantly red, becoming lieutenant governor in 2002 and the underdog in his successful race for the governor in 2006
As for galvanizing Latino voters, Kaine's fluency in Spanish and Trump's anti-immigration crusade may take care of the issue for the Clinton campaign; Milkis predicts Clinton will win more of the Latino vote than President Obama

The crucial issue, though, is turnout: "These people are not going to vote for Trump, but will they vote?" Milkis asked. "Our elections have become mobilizing campaigns."
On that front, Trump needs a "massive percentage of white males" to vote for him to win the election, Milkis said

Another consideration in making the VP pick, especially between Kaine and Booker, is what it will do to the makeup of the Senate, where Democrats are in the minority

With Booker as VP, N.J. Gov. Chris Christie, a Republican and Trump ally, would pick his replacement in Senate; with Kaine as VP, Virginia Gov. Terry McAuliffe, a Democrat and longtime Clinton ally, would choose the successor, keeping Virginia's Senate representation blue

Vilsack, from Iowa, "would be really disappointing to the base," Milkis said, and would be a less strategic pick given Iowa's 6 electoral votes and Virginia's 13
Clinton is set to announce her pick today or tomorrow while she campaigns in Florida

GOP CONVENTION RECAP
Ivanka Trump took her turn at the podium last night, the final adult Trump child to talk up her dad and attempt to show a softer side to the unconventional new face of the Republican Party; the 34-year-old mother of three began her speech by letting the crowd know she doesn't consider herself a Republican or Democrat

Trump went on to cause more confusion than clarification about her dad's agenda when she launched into a stirring call for wage equality and better treatment of working moms
"As president, my father will change the labor laws that were put in place at a time when women were not a significant portion of the work force, and he will focus on making quality child care affordable and accessible for all," she said. "Policies that allow women with children to thrive should not be novelties, they should be the norm."
Moments later, those topics were absent from her father's nomination acceptance speech
While the billionaire real-estate mogul has shown scant interest in women's workplace issues, presumptive Democratic nominee Hillary Clinton discusses them regularly, Bloomberg's Sahil Kapur noted in his "10 Most Jaw-Dropping Moments of the Republican Convention"
Keith Farrell of Libertarian Republic magazine said Ivanka Trump's speech is further sign of a radically changing GOP
"Republicans really don't care about limited government anymore —- at least, those who were in Cleveland for the RNC do not," Farrell wrote.
"Such facts became crystal clear when the droves of sycophantic followers cheered enthusiastically for a speech that sounded like it belonged at Hillary Clinton's convention."

Trump used the Republican stage to extend an olive branch to the gay community; Trump vowed to do everything in his power to protect gay, lesbian and transgender Americans from "the violence and oppression of a hateful foreign ideology."

Prior to Trump's address, Silicon Valley billionaire Peter Thiel made history by being the first speaker to declare he was gay in a speech at a Republican National Convention
Trump's son, Donald Trump Jr., called comments a "great moment of change" that "brought huge cheers" from the Republican crowd
NOTE: Republican Party's official 2016 platform advocates the reversal of U.S. Supreme Court decisions recognizing the right of same-sex couples to marry and mandating that married same-sex couples must be treated the same as other married couples for tax purposes, Bloomberg BNA reported earlier this week

OBAMA REBUKES OMINOUS TONE
President Obama told reporters at the White House he didn't watch the GOP convention, though pointedly criticized the tenor of Trump's speech

Obama: The "idea that America is somehow on the verge of collapse," is a message that "doesn't really jibe with the experience of most people"
Obama, responding to question about the Republican convention this week, says "some of the fears that were expressed throughout the week just don't jibe with the facts"

NOTE: Trump gave what Bloomberg's Michael Bender called "one of the most ominous" speeches of the campaign in his address to the Republican convention last night, which lasted 76 minutes

Trump ally and former House Speaker Newt Gingrich told CNN today that Americans don't feel as if crime is declining, even if statistics say otherwise

Obama: "The Republicans had an opportunity this week to share their vision with the country and emphasize those issues they thought were important. I'm going to let the American people judge how persuasive they thought those arguments were"

ENDORSEMENTS
Labor unions are stumping for Clinton in the Rust Belt --especially Pennsylvania, Bloomberg's Josh Eidelson reported

Specifically, labor groups are going after white working-class males
While Clinton can win the Keystone State without these voters, the campaign is avoiding unnecessary risks, Clinton consultant Jeremy Bird said

FUNDRAISING
Republican political consultant Alex Castellanos is heading a new super-PAC to support Trump, he says in Bloomberg podcast with Betsy Fischer Martin and Tammy Haddad 

The group, Rebuilding America Now, has Trump's backing, Castellanos said, though Trump previously disavowed super-PACs during the GOP primary

CONGRESSIONAL RACES
LA-SEN: White supremacist and former Ku Klux Klan leader David Duke announced that he plans to run for the open Senate seat in La.

In his announcement video, Duke says he demands "respect for the rights and the heritage of European Americans"
The Louisiana Republican Party condemned Duke, calling him a "hate-filled fraud" in an e-mailed statement
NRSC said in Twitter post it wouldn't support Duke "under any circumstance"
The field of candidates vying to replace David Vitter, who is not running for re-election, has swelled to 22 with Republican Reps. Charles Boustany and John Fleming, former Republican Rep. Joseph Cao and retired Air Force Col. Rob Maness among the names of those who have filed, AP reported. The candidate filing deadline is today.
Democrat Gary Landrieu, cousin of former Sen. Mary Landrieu, has also filed to run for the seat, which is rated ''Solid R'' by the Cook Political Report and ''Safe Republican'' by the Rothenberg Gonzales Political Report
NOTE: Under La.'s voting system, top two vote-getters face off in a runoff if neither gets more than half of the vote

Under such a scenario, two Republicans could wind up facing each other in the general election, or if they split the vote enough, two Democrats could advance
A similar situation happened earlier this year in Calif., where two Democrats advanced to the general election

AZ-SEN: Democratic Rep. Ann Kirkpatrick and Sen. John McCain both raised about $1.8m in the second quarter, according to FEC filings. McCain is facing a primary challenge from former state senator Kelli Ward, and, if he wins, will face Kirkpatrick in the general.

Kirkpatrick has $2.45m cash on hand and McCain has $5.8m cash on hand
The Cook Political Report today moved the race's rating from ''Likely R" to "Lean R"

FL-SEN: The conservative American Future Fund has a new ad in the West Palm Beach market knocking Democrat Patrick Murphy for votes on Export-Import Bank and the Iranian nuclear agreement.

White House is backing Murphy in Aug. 30 Senate primary

IN-SEN: Former Senator Evan Bayh is set to officially become the Democratic nominee later today at a meeting of the Indiana Democratic Party, according to filing.
MO-SEN: The Cook Political Report moved the Missouri Senate race from "Likely R" to "Lean R," they write on Twitter.

Democratic Secretary of State Jason Kander is opposing Republican Sen. Roy Blunt in race

FL-09: Dr. Dena Grayson, wife of Rep. Alan Grayson who is running for Senate, is holding a medical clinic in the district, in part to highlight Republican Gov. Rick Scott's refusal to expand the state's use of Medicaid, a key element of Obamacare, Florida Politics reported.
KS-01: House Liberty Project has a new ad attacking physician Roger Marshall, who is challenging Rep. Tim Huelskamp in Aug. 2 Republican primary, as "Washington's candidate."

Pre-primary FEC reports showed Marshall raised $25k from July 1-13 and spent $226k, while Huelskamp raised $48k and spent $280k
Huelskamp, who antagonized agricultural interests with his vote against 2014 reauthorization of farm programs, has $394k on hand compared to Marshall's $43k

NY-22: Retiring Republican Richard Hanna has said he won't support his party's nominee to replace him, Claudia Tenney. Hanna faced the assemblywoman in a 2014 Republican primary, but Hanna said he's withholding his support over Tenney's record, New York NPR affiliate WRVO reported.
UT-04: Republican Rep. Mia Love plans to spend $1m on television ads, which is twice what she spent in her last race, Salt Lake City Tribune reported.

Race against Democrat Doug Owens is a rematch of 2014 election that Love won 50%-47%
Before it's here, it's on the Bloomberg Terminal.
LEARN MORE