Trump Is Wrong on Crime, Immigration, Obama Says in Rebuttal
By
The president issued his own fact-check of Republican nominee

Trump says that murder, illegal migration is up under Obama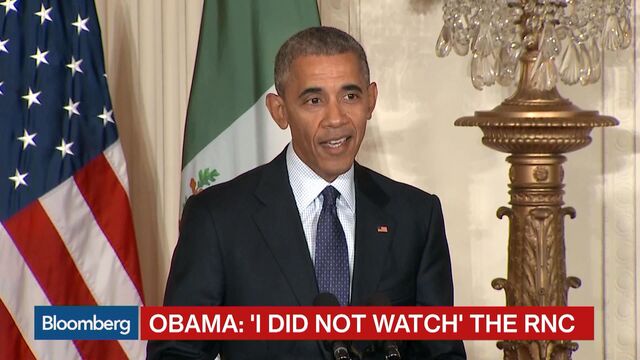 President Barack Obama offered a rebuttal of a Republican convention portraying a violent and chaotic America, insisting that the nation is largely peaceful and that crime and illegal immigration have fallen during his presidency.
"This idea that America is somehow on the verge of collapse, this vision of violence and chaos everywhere, doesn't really jibe with the experience of most people," Obama said at a White House news conference with Mexican President Enrique Pena Nieto on Friday.
Obama hosted Pena Nieto in Washington the day after Donald Trump accepted the Republican party's presidential nomination with a 75-minute speech in which he warned of an escalating murder rate in major U.S. cities and said that 180,000 undocumented immigrants with criminal records roam the nation's streets.
Obama turned fact-checker-in-chief in evaluating Trump's remarks, which followed speeches by other Republicans at the party's convention, including former New York Mayor Rudy Giuliani, that also dwelt on violence, crime, and the threat of terrorism.
Murder Rate
"Although it is true that we've seen an up-tick in murders and violent crime in some cities this year, the fact of the matter is that the murder rate today, the violence rate today, is far lower than it was when Ronald Reagan was president, and lower than when I took office," Obama said.
The violent crime rate in the U.S. has been falling for about 25 years, according to the FBI, and in 2014 the total number of violent crimes was 6.9 percent less than in 2010 and 16.2 percent less than in 2005.
Obama appeared at a meeting of police and law enforcement officials at the White House later on Friday to express gratitude for their work.
"Our job is to support you in whatever way he can," he told them, adding that helping police to reduce tensions with minority communities is "one of the best ways" to do so.
"Pretending sometimes that those tensions are not there is not going to make things better," Obama said.
Border Patrol Data
The rate of illegal immigration in the U.S., Obama said at the news conference, "is lower by two-thirds than it was when Ronald Reagan was president. We have far fewer undocumented workers crossing the border today than we did in the '80s, or the '90s, or when George Bush was president. That's a fact."
The president's contention that illegal immigration is at the lowest level in decades is difficult to examine because, by definition, the government is unaware of such border crossings. But the president is correct that apprehensions by the U.S. Border Patrol occur less frequently than in prior administrations. The Department of Homeland Security said that in 2015, it apprehended 406,595 people at the border —- substantially fewer than the more than 876,000 apprehended during President George W. Bush's last full year in office, and the peak of 1.7 million apprehensions in 2000 under President Bill Clinton.
In his acceptance speech, Trump claimed that "the number of new illegal immigrant families who have crossed the border so far this year already exceeds the entire total from 2015." His numbers are accurate, but those families didn't successfully cross the border; they were interdicted by authorities.
Migration Slows
Economists say the economic recession of 2007-09 and the slow recovery since then is probably responsible for some of the decline in migration from Mexico and the rest of Latin America.
Trump's campaign has featured promises to halt illegal immigration and deport millions of undocumented immigrants already in the country, many of them Mexican, as well as to build a wall along the U.S. border with Mexico. Trump called some Mexican immigrants "rapists" and "killers" when he announced his campaign more than a year ago, and earlier this year accused the federal judge overseeing a lawsuit against his Trump University of bias because of the U.S.-born judge's Mexican heritage.