Trak, an At-Home Male Fertility Kit
Count your sperm in the comfort of your own home.
By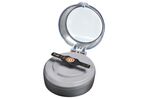 Innovator Greg Sommer
Age 34
Chief executive officer of Sandstone Diagnostics, an eight-employee startup in Livermore, Calif.
Form and function
The Trak male fertility testing system is a battery-powered home centrifuge that spins semen samples to isolate sperm cells and count their number, the main indicator of male fertility. A custom app tracks counts over time.
Origin
Sommer, a mechanical engineer, co-founded Sandstone in 2012 with biomedical engineer Ulrich Schaff and entrepreneur Sara Naab. Trak is their first product.
Funding
The company has raised $3 million from Life Science Angels, Astia Angels, and Sand Hill Angels, among others.

Measure
The 4-inch-wide, 3.5-inch-tall centrifuge spins a disposable cartridge containing semen. Gradations on the cartridge let the user measure how many sperm cells are concentrated at the bottom of the container.
Track
An app tallies sperm counts and monitors lifestyle habits, offering personalized recommendations over time to help men enhance their fertility.
Customers
Trak targets men who want to gauge their fertility outside of a clinical setting.
Rival
The only other at-home male fertility test kit on the market, SpermCheck, offers less-detailed test readings ("normal," "below normal") and no tracking app.

Next Steps
Trak will be available over the counter in October. Sandstone plans to charge $160 for the centrifuge and four test cartridges; the app is free. "I'm sure the test is accurate in terms of the count," says University of Minnesota professor of medicine Bruce Redmon, a specialist in male reproductive health. While there are other valuable data points, Redmon says Trak measures "the most important number you'd want to know."
Before it's here, it's on the Bloomberg Terminal.
LEARN MORE