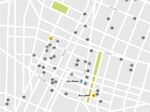 Sol LeWitt wrote Eva Hesse letters and postcards, challenging her to push forward with her art through bouts of uncertainty and doubt. By the end of her short career, Hesse, a profoundly important postwar sculptor who died in 1970 at the age of 34, may have influenced LeWitt's work every bit as much as he tried to guide hers.
"Converging Lines," an exhibit of both artists' sculptures, drawings, and paintings now on view at the Cleveland Museum of Art, shows how both artists benefited mutually from their close friendship. While LeWitt's work developed as rigorously rule-bound and orthogonal during the 1960s, Hesse's sensuous, organic take on Minimalism continued to manifest in LeWitt's drawings and paintings—in the form of "not straight" lines—until his death in 2007.
The show, which was originally organized by the Blanton Museum of Art at the University of Texas in Austin, features an incidental graphic that helps to explain how Minimalism thrived as a postwar concern in American art. Hesse, LeWitt, and just about every other big name from American modern art history all lived on the Lower East Side.


Everybody knows that the American postwar contemporary art scene was forged in Manhattan. (Yes, fine, California, too. Please don't @ me.) Seeing so many names clustered together on one map inside an area less than one square mile in size, though, demonstrates the density and immensity of art in Lower Manhattan during the 1960s. New York suffered from an embarrassment of riches.
The map's legend is made of legends: sculptors (Dan Graham, Louise Nevelson); painters (Jasper Johns, Robert Rauschenberg); conceptual artists (Lee Lozano, Lawrence Weiner); theorists (Lucy Lippard, Adrian Piper); performance artists (Vito Acconci, Trisha Brown); and all of the above (Yoko Ono). There are enough names on the map to build the cornerstone of a (very insular, white, New York-centric) museum of contemporary art. And these names still ring out: Yayoi Kusama is enjoying a major retrospective of her psychedelic installation art at the Hirshhorn Museum and Sculpture Garden in February; Chuck Close is the subject of an epic profile out now in The New York Times Magazine.
It's tempting to think that location no longer matters in the art world anymore. The market's gone global, with brick-and-mortar white-cube spaces giving way to a calendar of international art fairs. Art that at one time had to be viewed in person to be believed circulates freely as .JPGs online—and sometimes even sells sight-unseen. "Zombie formalism" and other viral concepts proliferate in art in place of yesteryear's vital regionalisms.

What gives "Converging Lines" such presence is its emphasis on interpersonal relationships as a crucible for making work. LeWitt wrote postcards to Hesse and other artists, and examples from this cache of clever correspondence are on display. His postcards to Lippard, a critic and theorist, for example, could serve as a course packet for a class on Minimalism and postwar art tactics. But LeWitt and Lippard were not sharing ideas they had gleaned online; they were building something new, something specific to a time—and, yes, to a place.
New York isn't lacking for an art world today, even if it is disaggregated, with museums still centered around Manhattan but studios spread further and further out into Brooklyn and Queens. And that crucial correspondence that once circulated by post between artists still happens today; Snapchat is a fine place to follow along. The future of art is far from doomed.
But regionalism as a whole has suffered as a result of New York's dominance. Justin Moyer explained in an essay for the Washington City Paper how artists don't just take their work with them when they move to New York seeking fame and fortune. They take with them the many roles that artists perform or evolve to fill in a regional art scene: curator, essayist, critic, sound tech, van owner, whatever the roles may be. The "Brooklynization" of the art world has turned most regional art scenes into art deserts—though, again, L.A. is still kicking.

New York isn't the same place anymore. The Meatpacking District, where the High Line begins and the Whitney Museum of American Art opened a new Renzo Piano-designed building last year, isn't zoned for almost any of the uses that might suit the transforming neighborhood. LeWitt and Hesse couldn't move there today, or probably any other place in Manhattan.
Where would they go instead? No place outside New York has emerged as a second city for artists, not one with all the advantages that Manhattan had to offer in the '60s and '70s (to artists, anyway). In hindsight, artists like LeWitt and Hesse—and Mark Rothko and Grace Wapner and Robert Ryman and all the rest—created billions in cultural capital and gave New York its face. There's no going back to that moment. Not in New York or anywhere else.