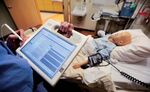 Leo, a 68-year-old retiree, is out shopping when his heart rate becomes irregular. He doesn't notice, but his wrist monitor does, and it notifies a distant team of doctors. They dispatch a driverless car packed with sensors and medical gear to get a closer look at him and, if necessary, bring him to the pharmacy or emergency room.
This is the future as imagined by Kaiser Permanente, which has built a mock-up of Leo's home in a test facility not far from its Oakland, Calif., headquarters, and is looking for equipment makers who can help fill the rooms' empty spaces. As Silicon Valley's principal hospital system and insurer, Kaiser has a history of focusing on advances rooted in technology, but in the past few years, instead of forcing its 10.6 million patients to use the systems on offer, it's begun pushing hardware and software makers to respond to patient demands, and supply what it thinks they'll want in 10 years. "It frees us up so we don't get so stuck on the realities of today," says Chief Executive Officer Bernard J. Tyson.
The auditions take place in a spartan 37,000-square-foot warehouse in the Oakland suburb of San Leandro. There, the model apartment for Leo—with spots marked out for motion detectors, sleep trackers, and a smart fridge—abuts mock hospital rooms, an operating room, and a neonatal intensive care unit, where doctors and nurses test equipment and practice new procedures.

Other staffers and patients try out some of the less exotic equipment, too, including telehealth software and a TV entertainment system that lets patients lying in hospital beds review their treatment plans, order food, call a janitor, or adjust the blinds on their windows using a remote, a keyboard, or their smartphone. Kaiser physicians now handle more patients via telehealth (59 million a year) than they do in person (50 million). Jennifer Liebermann, who runs the test facility, says patient feedback guided development of the TV remote system rolling out to a handful of hospitals and helped fine-tune it over the course of two years to make sure it was easy to use. Kaiser rejected at least one system interface, she says, after elderly patients deemed it too confusing.
Besides the savings from telehealth, simplified layouts, and better hardware, Tyson says his priority is to gather data that can aid preventive care and reduce the impact of chronic illnesses. Jeff Goldsmith, an analyst at research firm Health Futures, says Kaiser needs to work out that stuff as soon as possible. While the increase in health-care costs has slowed in recent years, that can't last forever, says Goldsmith: "The moment it ends, these people are going to be in the hot seat."

ER physician Caesar Djavaherian says he supports Kaiser's new remote control systems, which may be able to save a lot of time for nurses answering fewer call buttons. He's less sold on the driverless checkup cars. "You're assuming that the patient is mentally competent and fully cooperative," says Djavaherian, who has also founded an urgent-care startup. "A lot of patients can't even get to the front door in many cases, which is why paramedics exist."
Tyson acknowledges that high tech doesn't always mean better. Augmented-reality glasses capable of pinpointing the veins in a patient's arm looked impressive, but proved more time-consuming than tying off a rubber band to draw blood or place an IV drip. "When I saw the glasses, I thought, 'That's cool, we gotta do that.' We thought they'd be more efficient," says Tyson. "The reality is that strapping a piece of rubber around you, tapping you, and watching the vein come up is as good as it gets."
The bottom line: Kaiser says its San Leandro test facility is helping it design the hospital systems of the next decade.
Before it's here, it's on the Bloomberg Terminal.
LEARN MORE