Pokemon Go Fans Hit Japan's Streets After Itching for Home Debut
by and
Location-based game tops download charts after debut

Release coincides with start of summer school holidays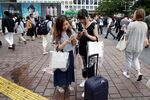 Office workers and children on summer vacation streamed out onto Tokyo's streets on Friday to play Pokemon Go, after the hit mobile game was released in its home country.
Anticipation had been building for weeks in Japan, the country that gave birth to the franchise two decades ago. The smartphone game, which topped the country's download charts just like it did on its U.S. debut earlier this month, lets users collect virtual "pocket monsters" scattered throughout the city on a digital map and battle them against each other.
By lunchtime, with parks and benches still wet after a morning drizzle, dozens of people outside Tokyo station were playing Pokemon Go while eating sandwiches and rice balls. Children congregated at a Pokemon store and at McDonald's Holdings Co. (Japan) outlets, which are among the digital pit stops where people can collect tools and train their monsters.
"I saw the news on the internet two days ago, but couldn't download it," said Hirokazu Kikuchi, who was visiting the nation's capital with his son from Tochigi prefecture. "We're going to play it while visiting Tokyo this weekend."
The wait hasn't been easy for Japan's legions of Pokemon fans. Even though the country is the second-most lucrative market for smartphone apps, gamers had to sit and watch as 35 other countries, including Malta and Luxembourg, became virtual playgrounds for Pokemon trainers.
For an explanation of Pokemon Go's gameplay and popularity, click here.
Nintendo Co., which holds stakes in Pokemon Co. and the game's developer Niantic Inc., saw its stock almost double through Friday following the game's debut in the U.S. Its market value today is $37.7 billion, exceeding the likes of Tesla Motors Inc. and Yahoo! Inc. Nintendo said in a statement that there are no plans to update its earnings forecasts, because any income from the game would be from a subsidiary and that projected sales from an accompanying gadget called Pokemon Go Plus are already included in the outlook.
"Everyone had been waiting for this," said Hideki Yasuda, an analyst at Ace Research Institute. "There's no doubt it will be popular in Japan as well."
In Japan, where there's no shortage of rules and regulations aimed at keeping people safe and informed, the government was ready with fresh warnings. A nine-point guide by one agency advised people not to stay out in the summer heat too long and to be on alert for natural disasters such as tsunamis while playing outside. Yoshihide Suga, the government's chief cabinet secretary, warned players to use the game in a safe manner. "They barely used any money on marketing, but because of comments from the likes of Suga the amount of attention had been rising," Yasuda said.
The shares of McDonald's Japan, which began selling Pokemon-themed meals, jumped 4.2 percent. The company confirmed it is the exclusive launch partner for the app and will have more than 2,500 of its stores as 'PokeStops' and 400 locations as 'PokeGyms' in the game. Its stock has climbed 23 percent since Pokemon Go launched.
Given the timing of the Pokemon Go's release on a Friday, the game is likely to become a bigger hit and a major social phenomenon over the weekend. The release also coincided with the start of school summer holidays in Japan.
Soon after Friday's release, a crowd gathered by the entrance to Tokyo's Imperial Palace, where a user had dropped a virtual lure to attract rare Pokemon. A group of college students were deep in conversation on how to evolve their monsters, staring at their phones.
The U.S. was the world's biggest market for smartphone apps during the second quarter, followed by Japan, according to researcher App Annie. China, which has limited access to Google's Play Store, was third while South Korea was fourth. It's not clear when Pokemon Go will be released in China and South Korea.
"We wanted to build a game that would inspire people to go outside, get exercise, discover new places and have fun with their friends," Niantic Chief Executive Officer John Hanke said in a video posted with the release. "Pokemon is a beautiful franchise which originated in Japan. When you go out to play, keep your head up, look around, enjoy the world around you and be safe."
Before it's here, it's on the Bloomberg Terminal.
LEARN MORE