Meet the Brexit Negotiators: Veterans of Europe's Backroom Wars
by and
David Davis up against seasoned, savvy Brussels bureaucrats

Britain's handicap is a four-decade hiatus from trade policy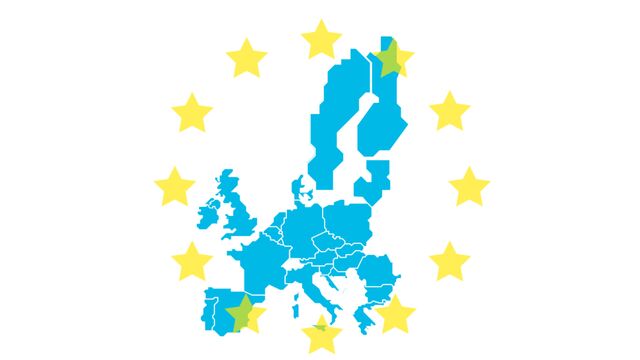 David Davis, the U.K. minister responsible for Britain's exit from the European Union, is starting out with a distinct disadvantage: his country hasn't run its own trade policy since joining the EU in 1973, while Europe has been honing its negotiating machinery for the past 60 years.
Davis, in his first senior government post at 67, will face an array of European politicians and bureaucrats representing different institutions, all armed with an abundance of technical expertise, diplomatic sensibility and political savvy from their years operating supranational networks in Brussels.
The European actors will also share the task of keeping the other 27 national capitals in the EU united as a new political and economic relationship with Britain is forged. In drawing up a negotiating strategy and preparing to trigger the process of seceding from the EU, the British government has an interest in building bridges directly to other member states.
Following are some of the Brussels-based EU personalities who may be active -- mainly behind the scenes -- once U.K. Prime Minister Theresa May triggers the exit negotiations and the two-year Brexit process begins.
Didier Seeuws
Seeuws is a seasoned Belgian diplomat whom EU President Donald Tusk chose as his Brexit czar. Because Tusk's job is to chair summits of the EU's national leaders, Seeuws will probably be a point person for the broad political questions arising from Brexit rather than for detailed policy making.

Seeuws was chief of staff to Tusk's predecessor, Herman Van Rompuy, a former Belgian prime minister who was the first person to hold the job of EU president. Seeuws, who like Van Rompuy comes from the region of Flanders, is known in Brussels circles for his intellectual sharpness, eye for detail and stamina.
With a deep understanding of the EU's legal complexities and its subtle political dynamics, Seeuws was hailed for his middle-of-the-night alertness during the debt crisis and his readiness to continue working as dawn broke. He helped bridge divisions between the bloc's leaders when the EU created its bailout fund, introduced tougher budget rules and agreed bailouts for Greece.
Martin Selmayr
The German chief of staff of European Commission President Jean-Claude Juncker has a reputation for being able, ambitious and ruthless. Inside the commission, the EU's policy engine, no top aide of any previous president in memory has wielded such power.

Selmayr rose through the EU ranks at breakneck speed. Within a decade he's gone from being a mere spokesman to head of cabinet for Luxembourg's appointee to the commission to now being the president's right-hand man -- angering, isolating and falling out with EU officials along the way. National diplomats talk of his abrasive style while commission staff lament so much power being centralized in one office, as some get demoted and others resign.
Selmayr leaves his mark on everything from commission personnel appointments and legislative initiatives to consultations with EU capitals and European refugee-crisis talks. He'll also have a say over who heads a Brexit task force that the commission plans to create once the U.K. government formally asks for EU secession. And as former British diplomat Charles Crawford observes, whoever picks the negotiators sets the parameters of the talks.
Cecilia Malmstroem
The EU's trade commissioner runs the portfolio most directly linked to Britain's future economic relationship with the bloc. Trade is also one of the original common European policies, giving the commission more clout on a day-to-day basis than it has in areas such as energy, the environment and justice where EU governments retain sovereignty.

Malmstroem is a Swedish Liberal and Brussels veteran with free-trade instincts in line with those of Britain. A former EU home-affairs commissioner, Malmstroem is a cautious operator whose most controversial action as Europe's trade chief may have come during her European Parliament confirmation hearing when she flagged up edits to her written testimony orchestrated by Selmayr.
Malmstroem has been going toe-to-toe with negotiators in a host of countries including the U.S., Japan, Canada, supported by a team of about 700 in the trade department in the European Commission. Her political mettle was tested early in her term when, amid growing popular concerns about future EU trade deals, she put on hold talks on investor protection with the U.S.
Martin Schulz
Schulz may be the strongest president the European Parliament has ever had. Ambitious, outspoken, and multilingual, the German Social Democrat has more than a few things in common with his compatriot Selmayr in the commission.

The son of a working class family from a German mining community, Schulz suffered with alcoholism in his youth and attempted suicide in his early 20s before turning his life around and embarking on a political career.
After Theresa May became U.K. prime minister and named her cabinet, Schulz was one of the few European politicians whose reactions went beyond anodyne congratulations and familiar calls for the Brexit process to start quickly. With anti-EU British ministers in prominent foreign-affairs posts in mind, Schulz said May's cabinet reflected the same Conservative Party tensions that led to the referendum and urged the U.K. "to break this dangerously vicious cycle."
While the EU Parliament in general and Schulz in particular won't manage the daily business of Brexit, the assembly will have to give its consent to the final deal. In the meantime, the 751-seat Parliament and its president could act as barometers of the popular reactions across Europe to the Brexit process.
Schulz's second two-and-a-half-year term as EU Parliament president ends in January 2017. Already the first person to serve more than one term, Schulz has an uphill political battle to win a third appointment.
Before it's here, it's on the Bloomberg Terminal.
LEARN MORE