Johnson Says U.K. Approached by Australia, India for Trade Deals
by
'A helluva lot of French wine' means goods, services will flow

Foreign secretary also met with U.S. executives in New York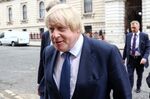 India and Australia are among the countries that have discussed the possibility of new trade pacts with the U.K. after last month's referendum to leave the European Union, Foreign Secretary Boris Johnson said.
"I've been amazed at the number of people that have been in touch with us that actively want to do trade deals," Johnson told reporters Friday in New York. Singapore and Malaysia also have expressed interest in trading partnerships, he said.
Johnson, the former mayor of London who was a leader of the Brexit movement, said U.K. Prime Minister Theresa May would lead a cabinet subcommittee related to exiting the EU that planned to meet in the next several days and would be "the main body where discussions will be held."
Following a visit to Washington, Johnson said he met in New York with "very senior representatives" of companies in the banking, pharmaceutical and manufacturing industries who emphasized the strategic importance of the U.K. The ability to maintain a free flow of goods and services between the U.K. and Europe is important to all parties, he said.
"It is manifestly in the interest of our friends to continue with an open relationship on all sides of the ledger," Johnson said. "We buy a helluva lot of French wine."
Before it's here, it's on the Bloomberg Terminal.
LEARN MORE