Masters in Politics Podcast
How the RNC Is Like 'Sundance for Crazy People'
The "Masters in Politics" podcast found five Hollywood celebrities among the crowd at the Republican National Convention and got their take on the production.
By and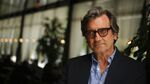 This convention week, said Griffin Dunne, was like "Sundance for crazy people." Talking to Bloomberg's "Masters in Politics"podcast, the actor-director said the atmosphere in Cleveland reminded him of "a really off-the-chart film festival where people are selling swag and promoting everything that they care about."
Dunne was one of five Hollywood celebrities attending the Republican National Convention as members of the Creative Coalition. The non-partisan group was hosting events around town and advocating on behalf of arts education. Actress Wendie Malick, who starred in the TV sitcom "Hot in Cleveland," explained she got "tired of being on red carpets and having people ask about the latest scandal in Hollywood or what you're wearing."  Instead, she said, "you have this microphone … why not try to use your voice to make changes?"
Noting all of the drama here this week, actor Harry Hamlin called it "the Jerry Springerization of politics," while Billy Baldwin didn't like all the "Hillary-bashing" and the "people screaming and chanting, 'lock her up.'"
"I found it to be offensive and inappropriate," said the actor and younger brother of Alec Baldwin.
You can hear the entire interview below.