IPOs Seen Reaching Record by Regulator Amid India Stocks Rally
By and
Focus on disclosures, improving economy luring investors: Sebi

IPOs raise $735m in April-June period, highest in six years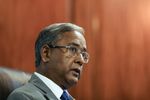 India's market regulator is forecasting initial public offerings to reach a record in the year ending March, as improved corporate governance standards and an equities rally attracts investors.
Twenty one first-time sales raised 49.4 billion rupees ($735 million) in the quarter ended June, more than in any comparable period since 2010, data compiled by Bloomberg show. Eighteen offerings seeking 61 billion rupees have been approved by the regulator, according to New Delhi-based Prime Database.
"My feeling is this fiscal year is perhaps going to be a record, going by the number of draft prospectus filed," U. K. Sinha, chairman of the Securities & Exchange Board of India said in an interview at his office in Mumbai. An improving economy and the regulator's focus on raising disclosure norms has benefited the IPO market, he said. 
Forty seven companies have raised $1.5 billion since Jan. 1, more than double the number in the comparable period in 2015, data compiled by Bloomberg show. ICICI Prudential Life Insurance Co. plans to raise of as much as 60 billion rupees in what may be the nation's biggest first-time share sale in six years, people familiar with the matter said in June. The S&P BSE Sensex reached an 11-month high last week as global funds snap up equities at the quickest pace since November 2014.
"The IPO market has come back to life lately but surely in comparison with the secondary market revival we have seen in the past two years,'' Jagannadham Thunuguntla, head of research at Karvy Stock Broking Ltd., said by phone. "The quality of recent IPOs has been good and pricing has been sensible, which shows up in strong subscription numbers."
Strong Demand
Quess Corp.'s sale earlier this month attracted bids for 145 times the shares on offer, making the offering the most oversubscribed IPO in the past nine years, the staffing company said in a statement. Mahanagar Gas Ltd., which supplies natural gas to homes, cab and buses in Mumbai, received demand for 64.5 times the shares offered.
Advanced Enzyme Technologies Ltd., whose products are used in the processing of fruits and vegetables, got demand for 115 times the shares offered at 4 p.m. Mumbai time on the last day of its IPO on Friday.
"June quarter has seen good capital raising, especially in mid-sized companies, and the next quarter will be better," Chitra Ramkrishna, chief executive officer of the National Stock Exchange of India Ltd., said in an interview in Mumbai. "Firms have been realistic about pricing and the improvement in the overall market sentiment has helped."
Steps taken by the regulator to streamline the IPO process and make merchant bankers more accountable have "cleaned up the system," Sebi's Sinha said. The time between the closing of the offer and trading debut will be reduced to three-to-four days from seven at present within a year to reach global standards, he said.
"More than two-thirds of the issues that came since 2013 are trading above the issue price, while earlier those numbers were just the opposite," he said.