Taking the Measure of Britain's New Normal
The betting is that Brexit will tip the economy into recession.
By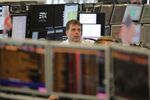 Brexit is beginning to bite. One month after U.K. voters elected to eject from the European Union, signs of stress are already apparent in the British economy as businesses, consumers, and investors brace for divorce from the world's largest trading bloc.
The pound is trading at its weakest level in three decades against the U.S. dollar; a gauge of consumer confidence plunged the most it has in 21 years; and a similar index of business sentiment sank to a four-and-a-half-year low. More than four-fifths of the 132 chief financial officers of U.K. companies polled by Deloitte plan to cut capital spending and reduce hiring over the next year. British Airways owner International Consolidated Airlines Group and real estate broker Foxtons Group are among those to have issued profit warnings since the referendum.
Almost three-quarters of economists surveyed by Bloomberg predict the world's fifth-largest economy will soon slip into recession. By some estimates, the pound's drop means France's gross domestic product has already overtaken Britain's in size. "We are concerned about companies starting to put spending projects on hold," says Elga Bartsch, co-head of global economics at Morgan Stanley.
Some in the ruling Conservative Party and others in Europe are pressing for a quickie divorce. But Theresa May, who this month succeeded David Cameron as prime minister, favors delaying the start of two years of formal separation talks, as mandated under Article 50 of the Lisbon Treaty, until next year. That may be wise for many reasons. One is that the U.K. hasn't negotiated a trade pact on its own since the early 1970s, which is why the government is racing to hire by yearend 300 lawyers, bankers, management consultants, and others with the skill sets to strike deals. They may not be as busy as the government hopes: Both the U.S. and Canada have declared their intentions to prioritize trade deals with the EU over bilateral agreements with just the U.K. At a July 19 press conference in London, U.S. Secretary of State John Kerry said it would be "physically impossible" to ink a pact with the U.K. until it formally leaves the EU.
The future of the British economy depends greatly on how Brexit negotiations play out. Will common interests prevail over the desire to exact retribution? For instance, German Chancellor Angela Merkel might be willing to support a U.K. bid for continued access to Europe's 440 million-strong consumer market if it means German manufacturers will still be able to ship more than 800,000 cars a year across the North Sea duty-free. Still, it's unlikely the U.K. will retain all the benefits of membership without shouldering any of the costs. One of the biggest sticking points will be movement of labor, an issue that Merkel and other European leaders have already said is inextricable from market access.
As uncertainty swirls, U.K. officials are signaling they will inject stimulus to buttress the economy. May has already dumped her predecessor's plan to deliver a budget surplus by 2020. And at the Bank of England, Governor Mark Carney is poised to cut the benchmark interest rate to zero and tee up a fresh round of bond buying, say JPMorgan Chase economists.
The pound's slump, however, could create opportunities for U.K. exporters and the nation's tourism industry. It could also trigger a spate of acquisitions by foreign companies: Japan's SoftBank Group is paying $32 billion for Cambridge-based chip designer ARM Holdings in a deal that came together in a mere two weeks. And Wells Fargo is plowing almost $400 million into a new European headquarters in the City of London. These factors may explain why, despite the economic worries, the FTSE 100 is still up more than 9 percent since the results of the referendum were announced on June 24.
The International Monetary Fund recently trimmed back its 2016 global growth forecast to 3.1 percent, from 3.2 percent in April, citing fallout from Britain's vote, a reminder that for all the noise, the U.K.'s contribution to global GDP is small, at 4 percent. Says Olivier Blanchard, former chief economist of the IMF: "For the rest of the world, this was not a major event."
The bottom line: Short term, the U.K. economy may be headed for a contraction. Talks on how to exit the EU will determine longer-term prospects.
Before it's here, it's on the Bloomberg Terminal.
LEARN MORE