Brexit
Brexit Bulletin: What You Need to Know on Friday
Will a key data point give us an insight into the Brexit effect?
by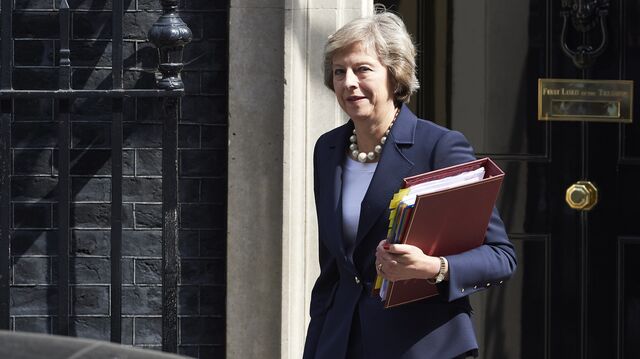 Sign up to receive the Brexit Bulletin in your inbox.
The best insight yet into how the U.K. economy is faring a month after the Brexit vote will be published today.
A special set of purchasing managers indexes will be released at 9.30 a.m. London time and are predicted to show manufacturing and services both shrank in July. A Bloomberg survey of economists suggests it could fall to 49, signaling contraction.
The data will be key to how much monetary stimulus the Bank of England provides next month. The bank reported this week that there had been no immediate slump in the economy and some officials on the Monetary Policy Committee said they would await hard data before deciding what to do.
"There would also appear to be disagreement on the appropriate strategy for a central bank that is not just running out of bullets, but is openly questioning its effectiveness," Allan Monks, an economist at JPMorgan Chase & Co. told clients in a report this week.
Today's data "could be important in determining how much the MPC chooses to deliver."
Cold Chill in Paris
Prime Minister Theresa May received a stark message in Paris on Thursday from French President Francois Hollande. He told her Britain faces a choice between accepting unlimited immigration from the European Union or losing access to its single market for goods:
"There can be no free movement of goods, free movement of capital, free movement of services if there is no free movement of people. It will be for the U.K. to chose: Stay in the single market and allow freedom of movement or have another status."
Such comments give May a taste of just how hard the Brexit negotiations are going to be. British voters were told by some campaigners that they could enjoy both free trade and less immigration, despite warnings from the continent those two options were hard to reconcile.
Meanwhile, in an effort to drum up business elsewhere, Chancellor of the Exchequer Philip Hammond visits China on Friday to promote opportunities.
Lower for Longer
Denmark knows more about negative interest rates than anybody, with rates kept below zero since 2012. Now the chief executive officer of Denmark's biggest bank sees Brexit keeping interest rates in his economy negative for longer.

The official Danske Bank forecast is now for Danish rates to stay below zero until "at least" 2018, CEO Thomas F. Borgen said on Thursday. "Generally, the U.K. vote on leaving the EU may have an impact so we'll have lower rates for a longer time and we may have negative rates longer," he said.
On the Markets
Snapshot at 7 a.m. London time: Asian stocks fell after Bank of Japan chief Haruhiko Kuroda dashed hopes for so-called helicopter money.

Though Brexit has been a driving force in global markets since Britain's vote to leave the EU last month, comments from central bankers in Europe and Japan pushed it off the immediate radar of traders.
Sterling was up slightly in early trading, reaching $1.32057 at 7.08 a.m. in London. 
And Finally...
Britain has a bit of disadvantage as the debate over trade with the EU gets under way: The country hasn't negotiated a trade deal since joining the EU in 1973, while Europe has been honing its debating skills for six decades.
As Jonathan Stearns and Ian Wishart report, that leaves the U.K. government facing an array of European politicians and bureaucrats representing different institutions, all armed with an abundance of technical expertise, diplomatic sensibility and political savvy.
Britain's man in charge? David Davis, in his first senior government post at the age of 67.
For more on Brexit follow Bloomberg on Twitter, Facebook and Instagram, and see our full coverage at Bloomberg.com
Before it's here, it's on the Bloomberg Terminal.
LEARN MORE