Landings
WATCH: 360° Video of Trump's Helicopter Arrival
The presidential candidate's arrival at Cleveland's Burke Lakefront Airport was captured using equipment from Google's Jump Camera program.
By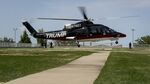 Flying into Cleveland, Republican presidential nominee Donald Trump made a unique entrance captured on the accompanying video by Bloomberg Politics' Griffin Hammond. 
The 1:37 minute clip, which is best viewed with the YouTube mobile app or a VR headset, uses 360° virtual reality technology to show how Trump's entrance looked from the penned-in press area from where it was filmed. In the video, Trump's plane flies by Wednesday on its way to the Cleveland Burke Lakefront Airport. Seventeen (time-lapsed) minutes later, his helicopter—with signature logo prominently on display—lands at the Great Lakes Science Center, where Trump introduced his running mate Mike Pence's arrival at the Republican National Convention.
According to Hammond, this landing was different than most Trump entrances.
A highlight of the clip is Trump's helicopter touching down while the music from the movie Air Force One blasts out of loudspeakers on the ground, perhaps conjuring images of the leader he hopes to become.
"It just seemed like they were trying to evoke the image of a president landing in Marine One," Hammond said, who also narrated the video. "Even the way he was coming out of the helicopter slowly and deliberately."
Trump was greeted by his children Don Jr., Ivanka, Eric, and Tiffany, as well as his running mate, Governor Mike Pence. He was introduced to a waiting crowd as "the next president of the United States, Mr. Donald J. Trump," and the media followed the nominee off of the landing area.
Hammond received the gear to shoot the footage from Google's Jump Camera program that is loaning the VR video-shooting devices to reporters at both the RNC and the Democratic National Convention next week. Bloomberg Politics is one of the six media organizations to participate in the inauguration of the program.
Before it's here, it's on the Bloomberg Terminal.
LEARN MORE