business
Union Pacific Declines as CEO Reports Weak Consumer Demand
By
Carrier sees 2016 freight volume down as much as 8 percent

Railroad reports second-quarter results in line with estimates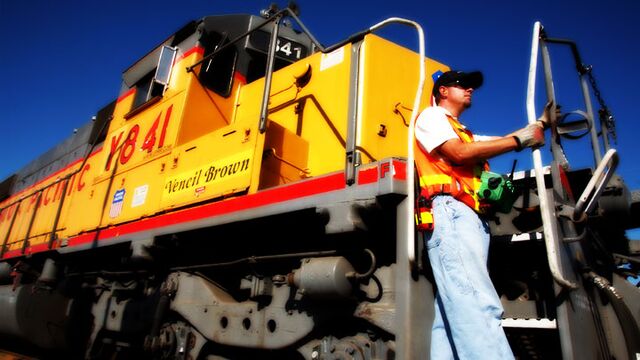 Union Pacific Corp. fell as Chief Executive Officer Lance Fritz said sluggish consumer demand and a strong dollar have become a persistent drag on railroad freight.
"The soft global economy, the negative impact of a strong U.S. dollar on exports and relatively weak demand for consumer goods will continue to pressure volumes through the second half of the year," Fritz said on a conference call Thursday after the carrier reported earnings.
The carrier's freight volume will drop as much as 8 percent this year and coal carloads will tumble about 20 percent, executives said during the call. That follows a quarter in which carloads tumbled 8.3 percent for U.S. carriers during the second quarter, according to data from the American Association of Railroads.
U.S. railroads have shed workers and parked locomotives to make up for a drop in cargo, led by coal. Union Pacific said it has 3,300 workers on furlough and has stored 1,700 locomotives to shrink its operations as it contends with lower volume.
The stock fell 2.4 percent to $91.89 at 10:48 a.m. in New York. Shares of the Omaha, Nebraska-based carrier were down 24 percent through Wednesday since peaking at $123.83 in February 2015 before freight slumped with a drop in energy and commodity prices.
Raising Prices
The railroad managed to raise core pricing 2 percent in the second quarter amid weaker volume, but the gain was less than the 4 percent increase a year earlier. Operating ratio, a closely watched efficiency measure of expenses as a percentage of revenue, deteriorated to 65.2 percent from 64.1 percent.
Profit fell to $1.17 a share from $1.38 a year earlier, the largest publicly traded U.S. railroad reported. Analysts had expected $1.16, according to the average of estimates compiled by Bloomberg. Revenue fell 12 percent to $4.77 billion, compared with analysts' estimate of $4.79 billion.
Carloads for coal plummeted 21 percent and for industrial products dropped 11 percent. Intermodal cargo -- consumer goods shipped in containers that can be hauled by ship, truck or train -- fell 14 percent. Intermodal had been a perennial growth area for railroads as they invested in modern terminals to wrestle the cargo from trucks.
(
Updates with freight forecast in third paragraph.
)
Before it's here, it's on the Bloomberg Terminal.
LEARN MORE