Turkey Enters Emergency Rule as Erdogan Hints at Extension
by and
Lira recoups some losses from record low; stocks, bonds gain

Deputy premier says only special powers can clean up state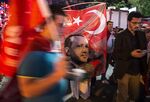 Turkey entered its second day under a state of emergency as President Recep Tayyip Erdogan signaled that the three-month period approved by parliament may not be enough to complete a purge of those responsible for last week's failed coup.
Erdogan told Reuters that there's no obstacle to extending emergency rule, which took effect at 1 a.m. on Thursday and was later endorsed by parliament. It allows the government to issue decrees with the force of law, and detain suspects for longer periods without trial. Financial markets stabilized after their steep falls earlier this week.
The hunt for enablers and perpetrators of the coup, which Turkey's government blames on followers of the U.S.-based cleric Fethullah Gulen, has extended far beyond an initial roundup of military suspects, and its scale has added to investor concerns about political stability. Judges, prosecutors, academics and teachers have been detained or dismissed. The official Anadolu news agency said more than 10,000 people are in custody.

Deputy Prime Minister Nurettin Canikli said in an interview earlier on Thursday that extended detention periods are the only way to rid the state apparatus of Gulen supporters who have spent decades infiltrating it.
"The group grew its roots in Turkey for 40 years," Canikli said. "It would take as many as 20 more years to clean it up under normal circumstances. We can't afford to wait that long."
Other ministers said the full three months of emergency rule approved by parliament may not be necessary. Economy Minister Nihat Zeybekci said on Friday it will end in 40 days if possible.
The lira, which fell to a record low 3.0973 against the dollar on Wednesday, rose as much as 0.4 percent to 3.0566 in early trading on Friday. The yield on Turkey's 10-year bond fell for the first time since before the attempted coup. The benchmark Borsa Istanbul 100 Index rose 0.4 percent, still down 13 percent on the week..
Military Stretched
Erdogan and his top aides say their new powers won't be used to infringe rights and freedoms, and dismissed such concerns when they've been raised by Turkey's allies in the U.S. and Europe. Turkey's army, its ranks purged of coup suspects, is engaged in a conflict with Kurdish separatists. It's also committed to the American-led fight against Islamic State and plays a key security role along the Turkish-Syrian border.
Turkey is calling on the U.S. to extradite Gulen, amid signs of strained ties between the NATO allies. State Department spokesman John Kirby said Thursday that the U.S. has offered to send a team to Turkey, or host a Turkish delegation, to assist the processing of the request. But he said that "if there is an extradition request, it's got to be based on evidence, not just allegations."
The state of emergency was backed by 346 members of the 550-seat parliament in Ankara, indicating that the government -- which holds 316 votes -- got at least some support from opposition parties. All groups in the legislature denounced the coup attempt. Public displays of support for the government have taken place every night since it was almost toppled. Late Thursday, thousands were gathered on Istanbul's Bosporus bridge, where the surrender of a group of soldiers had brought a symbolic end to the putsch.
'Short and Fast'
"The government may need some extraordinary measures to restore political and economic stability, and therefore there hasn't been widespread opposition to emergency rule," Huseyin Bagci, a professor of international relations at Middle East Technical University in Ankara, said by phone. "But they must make the intervention surgical -- short and fast. They shouldn't turn this into a long, painful process for society."
Investors are concerned about the impact of political upheaval on the economy, and S&P Global Ratings downgraded Turkey's debt this week.
Deputy Prime Minister Mehmet Simsek said on Thursday that the central bank and Treasury will also come under investigation as part of the post-coup cleanup. Regulators have contacted international investment banks to formally request copies of the economic reports they sent to clients in the days after the failed putsch, according to three people familiar with the matter.
"We disapprove of our banks publishing reports that would turn expectations and the atmosphere negative, like the international credit rating agencies did," said Mehmet Ali Akben, head of the bank regulator.
Before it's here, it's on the Bloomberg Terminal.
LEARN MORE