Swiss Seize Monet, Van Gogh Works at U.S. Request in 1MDB Probe
By
U.S. asked Switzerland to confiscate several artworks

Operation is still ongoing, Swiss Office of Justice says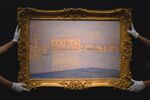 Swiss authorities seized paintings by Claude Monet and Vincent Van Gogh as part of a U.S. probe into money-laundering and misappropriation involving the Malaysian development fund 1Malaysia Development Bhd.
The U.S. sent a request on Wednesday to confiscate several artworks and Swiss authorities issued a seizure order the same day. Van Gogh's painting "La Maison de Vincent à Arles" was seized alongside Monet's "Saint-Georges Majeur" and "Nympheas avec Reflets de Hautes Herbes," Ingrid Ryser, a spokeswoman for the Federal Office of Justice, said in an e-mail on Thursday.
"The operation is still ongoing," Ryser said.

The U.S. Justice Department is seeking to seize more than $1 billion worth of property it says went through U.S. banks from the Malaysian development fund, known as 1MDB, and was ultimately used to illegally acquire assets. U.S. prosecutors filed a complaint detailing an alleged scheme of international money-laundering and misappropriation stretching from 2009 to 2015.
Swiss prosecutors are also investigating and have asked the U.S. Justice Department for help in gathering information. The Swiss Office of the Attorney General has filed requests for legal assistance with U.S. authorities and other countries, a spokesman for the office said late Wednesday, without naming them. The U.S. had asked Swiss authorities for help in May.
— With assistance by Hugo Miller, and Albertina Torsoli
Before it's here, it's on the Bloomberg Terminal.
LEARN MORE