Swatch First-Half Profit Declines to Lowest in Seven Years
by
Swatch says slump in Hong Kong retail sales has bottomed out

Swatch sees full-year results close to previous year's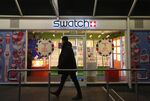 Swatch Group AG, the maker of Omega and Tissot timepieces, reported its lowest first-half profit in seven years as demand cratered in Hong Kong, France and Switzerland.
First-half operating profit declined 54 percent to 353 million francs ($359 million), the Biel, Switzerland-based company said in a statement Thursday. The company said last week that earnings at that level probably fell 50 percent to 60 percent, sending its shares plummeting. The stock advanced 1.8 percent in Zurich trading Thursday.
Chief Executive Officer Nick Hayek said July 15 that sales for the year may fall as much as 6 percent in Swiss franc terms, abandoning a previous forecast for growth. Terrorist attacks in France are keeping tourists at bay, denting sales. Swatch repeated Thursday that second-half results will show improvement as the comparison gets easier, adding that full-year results will be close or equivalent to last year's.
"To achieve last year's results for the full year would require a bigger miracle," said Patrik Schwendimann, an analyst at Zuercher Kantonalbank in Zurich.

Swiss watch exports declined a record 11 percent in the first half, led by drops in precious metal timepieces, the Federation of the Swiss Watch Industry also said Thursday.
Swatch said it's seeing signs of a revival in tourism in Italy, Spain and the U.K. The latter market was a strong one for the watchmaker in July as the weak pound attracted more buyers and tourists. The first three weeks of this month showed good growth in mainland China, especially for its luxury brands Breguet, Blancpain and Omega.
"The bullish outlook could be taken negatively by investors concerned about Mr. Hayek's 'denial' of the difficult situation the industry is in," Zuzanna Pusz, an analyst at Berenberg, wrote in a note. Hayek has said he wants to avoid cutting jobs as it's hard to find qualified staff when demand rebounds. Swatch said Thursday the company sees more opportunities than risks in the mid- and long-term.
Sales slid 11 percent to 3.72 billion francs, or 13 percent at constant exchange rates. Swatch said July 15 that revenue probably fell about 12 percent.
The company also said the drop in Hong Kong's retail sales has bottomed out, while wholesalers remain "very uneasy" and are delaying orders. Swiss watchmakers have been struggling for the past years with slumping demand in Hong Kong -- the world's biggest market for Swiss timepieces.
Before it's here, it's on the Bloomberg Terminal.
LEARN MORE