Pistorius Prosecutor Appeals 'Lenient' Sentence for Murder
By and
South Africa's NPA says six-year jail term 'shockingly' light

Girlfriend Reeva Steenkamp's parents say they support appeal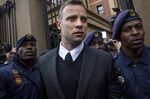 South African prosecutors filed an application for leave to appeal the six-year jail term handed to paralympic gold medalist Oscar Pistorius this month for the murder of his girlfriend.
The sentence is "shockingly too lenient, and has accordingly resulted in an injustice and has the potential to bring the administration of justice into disrepute," the National Prosecuting Authority said Thursday in a statement.
The punishment Judge Thokozile Masipa imposed on Pistorius in the South African High Court July 6 for killing Reeva Steenkamp on Valentine's Day three years ago was less than half of the recommended minimum 15-year jail term for murder. She originally convicted Pistorius of manslaughter and gave him a five-year sentence.
"We hope that this appeal will also clarify further the principles of sentencing, particularly in crime categories for which there are prescribed minimum sentences ordained by legislation," the NPA said.
In December, the Supreme Court of Appeal ruled that Pistorius was guilty of murder, citing "errors of law" in the first verdict. The Constitutional Court decided on March 3 that Pistorius couldn't appeal the murder conviction.
Steenkamp's parents, June and Barry, said in an e-mailed statement that they "have always fully supported" prosecutor Gerrie Nel "and his team's fight for justice for Reeva."
Before it's here, it's on the Bloomberg Terminal.
LEARN MORE