Signs of Exuberance Are Starting to Show Up as Stocks Sit Near All-Time Highs
Flows and sentiment show investors are all bulled up.
by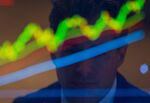 The S&P 500 and Dow Jones Industrial Average both closed at record highs on Wednesday and a peek at the underbelly of market flows and sentiment suggests that a sense of euphoria has enveloped investors.
Subdued levels of the CBOE Volatility Index, commonly cited as a gauge of fear, and the gap between implied volatility of the S&P 500 over the next three months compared to the next month steep term imply that market participants don't anticipate any turmoil in equities is imminent.

In addition, flows into exchange-traded funds shows investors have an appetite for riskier products once again. Money rushed into products that track the S&P 500, Russell 2000, and Nasdaq 100 indexes, while a much smaller amount flowed into minimum volatility and fixed-income ETFs.
Inflows into the ETFs that track those benchmark equity indexes hit their highest levels since September:

Another indication that fear has abated: Investors aren't showing a penchant for GLD, the exchange-traded fund for gold. On July 12, this product saw by far its largest outflows of 2016.

And in what might be a worrying sign of exuberance, Biriyini Associates Inc.'s Blogger Sentiment Poll has recently spiked. There's seemingly no indicator more contrarian than when the chattering masses with little, if any, skin in the game, are all bulled up.

Source: Biriyni Associates Inc
Mercifully for those long the market, the predictive power of this indicator appears to be much stronger when pundits are bearish.
There are signs that this euphoria is far from universal. Notably, fund managers surveyed by Bank of America Merrill Lynch reported holding cash at levels not seen since 2001, and exchange-traded products that offer exposure to VIX futures continue to see inflows.
Before it's here, it's on the Bloomberg Terminal.
LEARN MORE