Pairing New Cancer Drugs With Older Ones Bolsters Roche Profit
by
Schwan says combination strategy is way of future in cancer

Swiss drugmaker to raise dividend, sees sales growing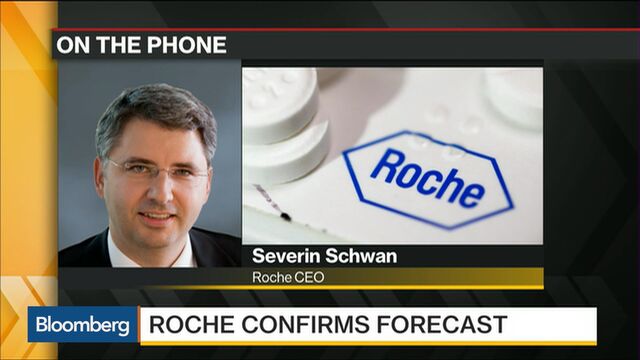 Roche Holding AG said combining tumor medicines for extra potency, a strategy that helped spur first-half earnings by reviving sales of older drugs like Herceptin, is the way of the future in cancer.
The drugmaker's core earnings, which exclude some items, rose 7 percent to 7.74 Swiss francs per share from 7.22 francs a year earlier, the Basel, Switzerland-based company said in a statement Thursday. That exceeded the 7.65-franc estimate of nine analysts surveyed by Bloomberg.
The world's biggest maker of cancer treatments is borrowing a page from its own playbook, and testing the drug cocktail approach that helped breathe new life into aging drugs for newcomers like Tecentriq, which was introduced in May and works by harnessing the immune system to fight cancer.
"I think the future in this field will be combination therapies," Chief Executive Officer Severin Schwan said in an interview by Guy Johnson on Bloomberg Television. "We are developing Tecentriq for a number of indications and even more importantly we have another nine new medicines in clinical development." Many drugs are being tested together, meaning "we have now over 50 study programs ongoing and this will literally revolutionize the way we can treat cancer in the future."

Tecentriq, which Roche just launched for bladder cancer, is one of five new medicines Roche plans to introduce over 12 months, "an unprecedented number in Roche's history," according to Schwan. Four are cancer drugs, and one is for multiple sclerosis.
Roche is mining the combination approach in other ways, too. It won regulatory approval last month to sell its blockbuster Avastin in Europe together with another of its older cancer treatments, Tarceva, for patients with a specific type of advanced lung cancer. And Herceptin is a component of Kadcyla, a recent treatment for breast tumors that bundles the 18-year-old drug with a technology that helps the medication carry chemotherapy directly into malignant cells while bypassing healthy ones.
Sales rose 6 percent to 25 billion francs in the first half, Roche said on Thursday. The company reiterated it expects sales to grow by a percentage in the low- to mid-single digits at constant exchange rates in 2016. Core earnings per share are targeted to grow ahead of sales. Roche also said it plans to raise its dividend. The stock was little changed, falling 0.6 percent to 251.40 francs at 11:55 a.m. in Zurich trading.
Before it's here, it's on the Bloomberg Terminal.
LEARN MORE