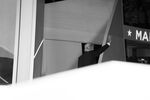 The Republican National Convention in Cleveland was supposed to unify the GOP after a long, contentious, lurid primary season that saw reality-TV star Donald Trump easily best a field of 17 candidates for the White House. The convention, Trump promised, would be a spectacular display of Hollywood prowess featuring "winners" from all over. But the moment raw-nerved delegates and politicos arrived in Cleveland, the city coursed with tensions—between pro-Trump Republicans and #NeverTrump die-hards; between Black Lives Matter activists and the pro-police Blue Lives Matter advocates that sprang up to counter them; between Ted Cruz and the Trump supporters who showered him with boos for refusing to endorse; and among the roiling menagerie of doomsday preachers, conspiracy theorists, and zealots shouting "Repent!" outside Quicken Loans Arena. "This is like protest bingo," marveled Matt Pearce of the Los Angeles Times.

Behind the scenes and offstage, these same tensions played out among the most powerful figures in Republican politics. Despite Trump's calls for unity, many of his own allies continued to assail former rivals. Roger Stone, the Nixon-worshipping bon vivant who functions as Trump's Rasputin, called Governor John Kasich of Ohio "a pathetic stoner who will never be president." Though the convention was in his home state, Kasich refused to attend on principle. Yet he was still a lurking peripheral presence in places like the Sheraton Suites in Akron, where, already eyeing the 2020 race, he shared with Michigan's delegation his post-Trump vision of "a unifying, an uplifting, and a hopeful party."
At times, the mood in the main hall seemed apocalyptic. "What we witnessed in Ferguson, in Baltimore, and in Baton Rouge was a collapse of social order," declared Milwaukee County Sheriff David Clarke Jr. on Monday night. To amplify the evening's theme, "Make America Safe Again," a succession of speakers seemingly molded in Trump's image painted a picture of America as a country overrun by Muslims, Mexicans, terrorists, and police killers. Many delegates were uncomfortable with this. Some winced or shook their heads. Some marched out.

The closest thing to a unifying sentiment was the conviction blared through bullhorns and splashed across T-shirts that Hillary Clinton belonged in jail. Retired Lieutenant General Michael Flynn, who'd been on Trump's vice presidential shortlist, endorsed the idea from the convention stage. Former Trump rival Ben Carson carried his indictment further, suggesting Hillary admired Lucifer. It fell to New Jersey Governor Chris Christie, also passed over for vice president, to provide a more measured response—at least, initially. Asked at a Michigan delegate breakfast to promise that he'd prosecute Clinton "when Trump names you attorney general," Christie paused. "It is very tempting to give in to what I know would be an enormous applause line," he said. But he demurred: A Republican needs to "provide the type of leadership as attorney general that doesn't prejudge but lets facts determine our course, not our politics." The next evening Christie took the stage and went for the applause, delivering his speech in the form of a prosecutor's brief against Clinton and leading a witch-hunt chant of "Guilty!"
Did any of this put off GOP stalwarts? Only a handful. Ronald Rabin, a retired U.S. Army colonel from North Carolina, spoke for most delegates when he said that throughout the campaign, "Trump was the only one who made sense."

(Updates with the reaction to Ted Cruz's speech in the first paragraph.)
Before it's here, it's on the Bloomberg Terminal.
LEARN MORE