PayPal and Visa End Battle, Unveiling Pact on Fees and Data
by and
PayPal agrees to stop steering business away from Visa

Visa offers some certainty on what fees it will charge PayPal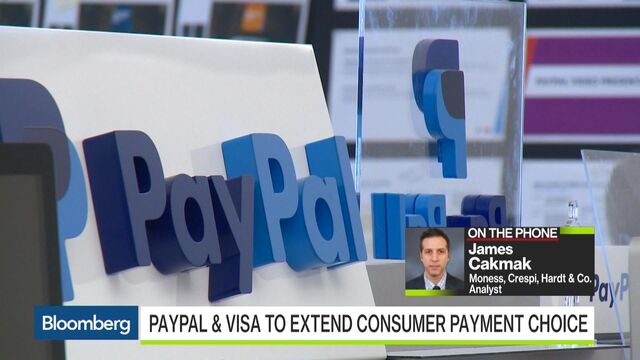 PayPal Holdings Inc. and Visa Inc. just made up after more than a decade sparring over the future of digital payments.
The two companies announced an agreement Thursday in which PayPal will stop discouraging customers from linking accounts to Visa cards and share more data with the card network in exchange for "long-term Visa fee certainty" and other incentives.
For Visa, the deal stems the loss of transaction fees when PayPal users link their PayPal and Venmo digital wallets to their bank accounts. For PayPal, it removes the threat of higher costs from those new fees and re-invigorates its push to become a common in-store payment tool.
The deal ends years of acrimony between the companies that escalated as PayPal's transactions volume soared and Visa expanded into PayPal's turf of online payments and digital wallets.
"This is a watershed moment because for the past 17 years -- ever since PayPal was founded -- Visa viewed it as an adversary," said Gil Luria, analyst at Wedbush Securities. "PayPal is now in a position to negotiate with Visa about rates, which it never had before."
PayPal shares rose as much as 6.9 percent in after-hours trading on news of the deal and strong quarterly results. Visa shares were little changed in extended trading.
Less ACH
PayPal's strategy of steering customers to link their digital wallets with a bank account drew ire from Visa executives as it allowed PayPal to process payments via the cheaper, bank-owned ACH network, cutting Visa out of transactions.
The ACH system charges a flat rate per transaction that varies depending on volume, typically between 10 and 50 cents, said Ralph Dangelmaier, chief executive officer of payments technology company BlueSnap. Debit card transactions cost about 1 percent of the overall sale and credit cards more than 2 percent, he said. 
The difference on a small transaction is marginal but on a $1,000 purchase it is sizable since one is a flat fee and the other a percentage of the price, he said. Applying that to the billions of transactions PayPal handles every year makes ACH a major source of profit for the company. 
However, PayPal CEO Dan Schulman in April said the price gap between ACH and card transactions had narrowed and ACH transactions carried greater risk. The fee that Visa threatened to impose on PayPal would likely have narrowed that gap further, making it less financially attractive for PayPal to funnel users to ACH. MasterCard imposed a similar fee on PayPal and other digital wallets in June 2013.
"This agreement is a framework for Visa and PayPal to work together and move away from the Cuban Missile Crisis relations they've been having," Dangelmaier said.
In-Store Help
In return for funneling more transactions through Visa's network, PayPal will get help expanding its reach into physical stores, an area it has been struggling with for several years. Most transactions still happen in the real world, rather than online, so it's a big opportunity for PayPal. But Apple Inc.'s Apple Pay and Google's Android Pay have made bigger strides in this area than PayPal lately.
Prior to Thursday's agreement, PayPal had limited access to retail locations. In 2014, the company said it had the ability to transact in two million stores. The Visa pact means PayPal users will be able to pay by tapping smart phones everywhere Visa supports contactless payments. Schulman said this means PayPal will work in "millions" more stores, without being more specific. He also said PayPal is talking with other payments companies about similar deals.
Token Offering
PayPal will use Visa's tokenization service, which swaps cardholder information such as account numbers with a unique set of numbers that validates a customer's identity to discourage online data theft. Charlie Scharf, Visa's CEO, said PayPal will have to work with card issuers directly to ensure it can tokenize transactions in stores, but said PayPal's progress on this front won't change the incentives in the deal.
PayPal also agreed to provide better data about its transactions to Visa cardholders' issuing banks. Payment networks had complained that PayPal's lack of transparency made it difficult to fight fraud and properly apply rewards.
The agreement should result in "more spending volume" on Visa cards, Scharf said during a conference call with analysts on Thursday. The company also brokered the deal to help its bank partners lower operational costs and improve security for Visa cardholders, he said.
Both companies hope to work out a deal for international transactions as well, Scharf added.
Before it's here, it's on the Bloomberg Terminal.
LEARN MORE