Lawmakers Back Emergency Rule in Turkey Extending Custody Limits
By and
Deputy PM Canikli says maximum four-day detention insufficient

Plotters' removal to take 20 years without emergency measures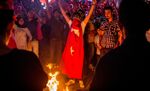 Turkey's parliament threw its weight behind the imposition of emergency rule that a top official said would allow for longer periods of detention without charge to investigate suspects in last week's failed coup.
Without an extension of custody limits, the purge of followers of the U.S.-based cleric Fethullah Gulen -- accused of masterminding the plot -- would take too long, Deputy Prime Minister Nurettin Canikli said in an interview in Ankara. Turkish law lets authorities hold suspects for four days without charges.
Such talk is likely to exacerbate fears among Turkey's allies that excessive reprisals could further destabilize a country fighting a war with Kurdish separatists and confronting the spillover of conflict in neighboring Syria, including Islamic State attacks. Turkey's leaders have promised no backsliding on democracy, yet the government has also said it will derogate itself from the European Human Rights Convention while the state of emergency is in effect.
"The main reason for the emergency rule is the need to clear the state as soon as possible" of Gulenists, Canikli said. "The group grew its roots in Turkey for 40 years, and it would take as many as 20 more years to clean it up under normal circumstances. We can't afford to wait that long."
Lawmakers voted 346-115 in favor of a state of emergency for a period of three months. The ruling AK Party that Erdogan co-founded holds 316 votes in the 550-seat legislature.
Purge Intensifies
Thousands of Turkish army officers, judges and prosecutors have been detained since the attempted putsch by a faction of the armed forces collapsed on Saturday, leaving almost 250 people dead after a night of aerial bombardment and street battles. A wider purge is under way that encompasses universities, schools and the civil service.
Turkey won't be under military rule, and army units will take orders from provincial governors, President Recep Tayyip Erdogan said after declaring the emergency measures. There'll be no pause in economic reforms, even as the "virus" of the coup-plotters is wiped out, he said.
"There will be no restrictions on rights and freedoms," Erdogan, who has been seeking to concentrate power in the presidency since he was elected to the office two years ago, told a rally on Wednesday night.
Recent Precedent
Emergency rule, which was in force in parts of Turkey's largely Kurdish southeast until the last decade, allows the government to issue decrees with the force of law and suspend rights. According to the presidential press office, if parliament approves the decrees, they can't be overturned even by the Constitutional Court -- the country's top tribunal.
"The government may need some extraordinary measures to restore political and economic stability, and therefore there hasn't been widespread opposition to emergency rule," Huseyin Bagci, a professor of international relations at Middle East Technical University in Ankara, said by phone. "But they must make the intervention surgical -- short and fast. They shouldn't turn this into a long, painful process for society."
The failed putsch and crackdown that followed have caused unease among investors.
The lira slumped to a record low 3.0973 per dollar on Wednesday, recovering to 3.0746 in afternoon trading on Thursday -- still about 7 percent weaker than the day before the coup. The yield on Turkey's 10-year bond rose for a fifth day to 10.25 percent, while the benchmark Borsa Istanbul 100 Index fell more than 4 percent, on course for its worst week since November.
'Triple-Checks'
The central bank and the Treasury won't be spared as the government cleans up after the attempted coup, Deputy Prime Minister Mehmet Simsek said at a press conference in Ankara on Thursday. "We're talking about the state. They are small places but we'll still look at it. There will be double-checks, triple-checks," he said.
The purge will be beneficial to the Turkish economy in the medium to longer term as members of the Gulen movement had the ability to sabotage the economy, said Canikli, who took over some of the economy brief from Simsek earlier this year.
"We all knew that such a structure had the ability to create instability in the economy and in politics," he said. "Maybe this wasn't fully understood by business groups at home or abroad, but the impact of this development will be reflected on all economic indicators and positively affect investors' actions."
Government spending may increase, as tax receipts are likely to rise with the weaker lira, he said.
Emergency rule "must be limited to an absolutely necessary duration and then be lifted immediately," German Foreign Minister Frank-Walter Steinmeier said in a statement on Thursday. "This is in the interest of Turkey itself, since anything else would damage the country and weaken Turkey, internally and externally."
Before it's here, it's on the Bloomberg Terminal.
LEARN MORE