JLL-Backed Patheon Climbs After Raising $640 Million in IPO
by
Drug-ingredient maker prices shares toward top of range

CEO Mullen says investors attracted to growth in margin, sales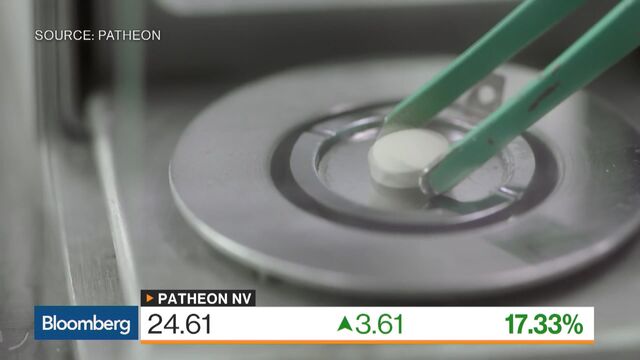 Patheon NV, the Dutch maker of drug ingredients backed by JLL Partners, climbed in its trading debut after raising $640 million in its initial public offering.
The company and major shareholder Royal DSM NV sold 30.49 million shares for $21 apiece, pricing the shares in the upper half of the marketed range, according to data compiled by Bloomberg. Patheon had marketed the stock for $19 to $22 a share. It plans to use proceeds from the offering to pay down debt, the prospectus shows.
The stock gained 16 percent to $24.39 at 12:12 p.m. in New York. Based on the $21-a-share IPO price, Patheon has a market value of about $2.97 billion.
Patheon first filed to go public in June 2015, before U.S. equity markets were plagued by months of volatility. Risk-averse investors have been skittish on newly issued stocks, dissuading some companies from trying to list shares.
For more on how IPOs have fared in 2016, click here
Third Biggest
Patheon is the third-biggest offering by a company in the U.S. this year, according to data compiled by Bloomberg.
"We have been positioning ourselves to come out and we are one of those fortunate companies that could," Chief Executive Officer Jim Mullen said in an interview. Throughout the IPO roadshow, investors were attracted to Patheon's margin growth, increased sales and the broader expansion of the pharmaceutical industry, he said.
Patheon posted net income of $138.4 million on sales of $1.8 billion in the year ended Oct. 31. That compares with a net loss of $119 million on revenue of $1.5 billion in fiscal 2014.
Patheon was formed in March 2014 through a merger of Canadian drug maker Patheon Inc., JLL then controlled, and the drug business of Dutch vitamin maker Royal DSM. That deal generated more than a $480 million cash profit before fees to investors in JLL's fifth buyout fund, or about twice the money they'd invested in the business starting in 2007, JLL said at the time.
JLL bet on Patheon again in 2014, leading a group that paid about $500 million for a 51 percent stake in the merged company. The firm's partners and Patheon executives put up close to $100 million, with the rest coming from JLL's fifth and sixth funds and from clients. DSM took a 49 percent stake.
Last year the company paid shareholders a $538 million dividend.
JPMorgan Chase & Co., Morgan Stanley, Jefferies Group LLC and UBS Group AG are leading the deal.
Before it's here, it's on the Bloomberg Terminal.
LEARN MORE