It Looks Like the U.S. Consumer Just Had Its Best Quarter in a Decade
The $13 trillion gorilla is beating its chest once more.
by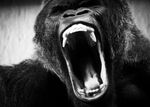 You can't keep a $13 trillion gorilla down for long.
That's how Macquarie Capital Markets Analyst David Doyle describes the U.S. consumer, in a note to clients detailing the growing strength of the engine of the world's largest economy. 
Doyle notes that the Atlanta Fed's GDPNow model, last updated on July 19, suggests personal consumption expenditures will expand in the second quarter by an annualized 4.5 percent quarter-over-quarter. That's a pace of growth not seen since the first quarter of 2006.
"Macro data continues to show that the global economy's $13 trillion gorilla, the U.S. consumer, is getting even stronger," the analyst wrote.
Doyle cited strong income growth, relatively low gas prices and interest rates, as well as releveraging, as reasons to expect continued strength in this segment going forward.
The resurgence in U.S. consumption comes as affirmation for most members of the Federal Reserve, who were expecting an uptick in consumer spending to buoy growth. In April, some Fed officials worried that relatively soft personal consumption expenditures in the first quarter were a harbinger of "a more persistent slowdown in economic growth [that] might be under way," per the minutes from the central bank's meeting.
Unfortunately, the U.S. consumer hasn't proved to be much of a tailwind to the rest of the world since the end of 2014, with real imports roughly flat over this span.
Despite this revival in spending growth, elevated domestic stockpiles might stifle the positive influence the U.S. consumer has on global growth.
"Generally, consumption and imports are correlated, but the change in each is connected to the inventory cycle, too," said Bespoke Investment Group Macro Strategist George Pearkes. "Right now, inventories are running very high for most of the supply chain, so it wouldn't be a surprise to see consumption ramp up but have that offset to a large degree by falling inventories relative to final sales."
Before it's here, it's on the Bloomberg Terminal.
LEARN MORE