HSBC's Johnson Said to Take Broader U.S. Role Before Arrest
by , , and
Bank had already probed $3.5 billion deal under U.S. scrutiny

Johnson about to relocate to U.S. as head of FX for region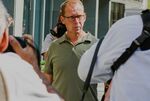 The HSBC Holdings Plc executive arrested Tuesday for alleged frontrunning was about to move to the U.S. to take up a broader position in the firm's trading division, according to people familiar with the matter.
The arrest of Mark Johnson, 50, came as a surprise to the bank, which had already probed the $3.5 billion deal at the center of the controversy and found nothing improper, said the people, who asked not to be identified because the details are not public. He was to become head of the bank's foreign exchange and commodities business for the Americas, the people said.
Johnson was arrested by U.S. federal agents as he prepared to fly out of New York's Kennedy airport on Tuesday and charged with manipulating the pound exchange rate to take advantage of inside information he had gleaned about a client transaction. HSBC learned about his arrest from the media, and Johnson remains an employee, the people said.
After Bloomberg reported in June 2013 that banks had been manipulating the $5.3 trillion-a-day foreign-exchange market, HSBC brought in lawyers to investigate into its currency business. That led to the departure of several FX traders and resulted in the firm paying $618 million in fines to the U.K. Financial Conduct Authority and the U.S. Commodity Futures Trading Commission.
The U.S. also charged HSBC's former head of currency trading in Europe, Stuart Scott, with involvement in the scheme. Scott left the bank soon after the 2014 settlement.
The two traders allegedly conspired to take advantage of inside information about Cairn Energy Plc's plans to sell part of its stake in an Indian subsidiary. HSBC was hired to trade about $3.5 billion in proceeds of the sale to pounds, and made about $8 million from the deal.
HSBC has been under the supervision of an outside monitor it was required to hire in 2012 for five years as part of a deferred prosecution deal it struck with the U.S. Justice Department. HSBC has increased its compliance workforce to about 9,000 from 1,500 in 2010.
Before it's here, it's on the Bloomberg Terminal.
LEARN MORE