Hamptons Mansion Buyers Have More Choices With Sales Sliding
by
Focus on high-end has 'been played out,' appraiser Miller says

Least-expensive properties in high demand, with prices up 18%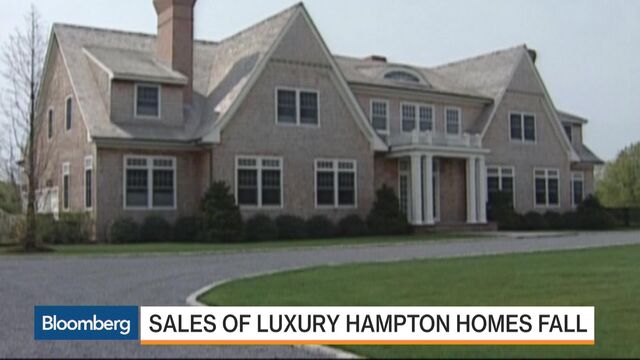 It's a good time to buy a home in New York's Hamptons, especially for shoppers with more than $3 million to spend.
Sales of luxury homes in the area, known as Wall Street's beachside retreat, fell 20 percent in the second quarter from a year earlier to 57 deals, while the number of high-end listings climbed, according to a report Thursday by appraiser Miller Samuel Inc. and brokerage Douglas Elliman Real Estate. The median price of transactions in the top 10 percent of the Hamptons market -- defined for the quarter as $3.55 million or more -- slipped 0.9 percent. Values rose for the lowest-priced properties.
"The global phenomenon that emphasized luxury development, luxury sales and luxury purchases almost exclusively -- that's been played out," said Jonathan Miller, president of Miller Samuel. "That market is taking a breather."

A surge of newly built luxury homes has reached the Hamptons market just as would-be buyers of exclusive vacation properties are pulling back amid global economic turmoil, said Judi Desiderio, chief executive officer of Town & Country Real Estate. There are 314 homes on the market for $10 million or more in the towns and hamlets on Long Island's South Fork, the most ever tracked by the brokerage, she said.
'Great Bargains'
In the three months through June, there were four completed sales for $10 million to $19.99 million -- a 60 percent decrease from a year earlier, according to a report released by Town & Country this week. There were no purchases for more than $20 million.
Sales that were completed in the second quarter were negotiated in the early months of the year, when the U.S. stock market tumbled and concerns were mounting about China's economic growth, Desiderio said.

The period is traditionally a busy one as Hamptons buyers seek to complete deals before the peak vacation season. At the lower end, demand was robust. For the bottom 20 percent of sales, the median price was $375,000, or 18 percent higher than a year earlier, according to Miller Samuel and Douglas Elliman.
"If you're a buyer between between 20 and 30 million dollars, go shopping -- you'll get some great bargains," Desiderio said. By contrast, "anything under $1 million is in great demand, no matter what the stock market's doing."
Buyers Hesitate
Homes priced in the top 10 percent of the market took 74 days longer to sell than a year ago, according to Miller Samuel and Douglas Elliman. For properties below that threshold, the time on market shrank by three days.
Buyers of high-end houses are "much more attuned to macro-economic conditions" and were more likely to have been given pause by concerns over China's economy, slumping commodities prices and uncertainty over Britain's referendum to leave the European Union, Miller said.
Corcoran Group, which released its own report on the Hamptons market Thursday, said sales fell the most in the town of Water Mill. There were 15 purchases there, or 53 percent fewer than last year's second quarter. The median price of those transactions slipped 2 percent to $2 million.
On Shelter Island, deals jumped 80 percent to 27, with the median price climbing 46 percent to $875,000.
"Interest rates are still at record lows," said Ernest Cervi, a senior vice president at Corcoran Group who oversees the brokerage's Hamptons sales. "People sense there's opportunity."
Brown Harris
Brown Harris Stevens, in its own report Thursday, said sales in most Hamptons towns declined in the first half of the year compared with the same periods in 2015 and 2014.
In Montauk, 42 homes changed hands in the first half, down from 56 a year earlier and 64 in 2014, the brokerage said. The median price of this year's transactions was $997,750, up 6.4 percent from the first half of 2015.
East Hampton recorded 200 sales in the six-month period, at a median price of $887,500. That compares with 225 last year, at a median of $855,000, according to the report.
Before it's here, it's on the Bloomberg Terminal.
LEARN MORE