Guest List Offers a Glimpse of the Money Behind Donald Trump
Some names were predictable, like Sheldon Adelson. Others are more surprising.
By , , and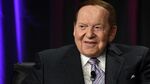 They are billionaires, sports-team owners, and former ambassadors. Some are longtime party fundraisers, others are new to Republican politics, attracted by friendship or admiration for their party's nominee, Donald Trump.