Frankfurt Trading to Grow in Importance Post-Brexit, Study Finds
by
Asset management, corporate banking also seen gaining

Housing shortage, lack of qualified personnel seen as snags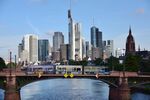 Securities trading in Frankfurt will probably experience an upswing in the wake of Britain's decision to leave the EU, with Germany's banking capital emerging as one of the main beneficiaries in the changing landscape, according to a survey of German financial professionals.
More than three-quarters of the respondents said trading and settlement would gain while asset management, corporate banking and professional services are also likely to benefit. Fewer than 10 percent expect retail banking in Frankfurt to profit from a so-called Brexit, the survey by Professor Volker Bruehl of the Center for Financial Studies at Frankfurt's Goethe University found. A gauge measuring the future international importance of Germany's financial center reached a historic high, jumping 21 points to 137.

London, the world's biggest financial center, is at risk of losing jobs and business areas to smaller European hubs with Paris, Dublin, Amsterdam and Frankfurt jostling for a share of the spoils. As home to the European Central Bank and the SSM, which supervises euro-area banks, Frankfurt is also seen as a candidate for the future location of the European Banking Authority, currently based in London, with slightly more than half of the survey participants tipping in the German city's favor.
"It will be crucial to highlight Frankfurt's specific strengths to top decision-makers," since there is tough competition among locations, said Bruehl, author of the survey, which was sponsored by marketing group Frankfurt Main Finance.
Obstacles include a housing shortage, with more than 70 percent of the survey participants expressing concern about a lack of adequate accommodation in Frankfurt, while 53 percent cited a potential shortage of qualified personnel as a disadvantage.
Sign up to receive the Brexit Bulletin, a daily briefing on the biggest news related to Britain's departure from the EU.
Before it's here, it's on the Bloomberg Terminal.
LEARN MORE