Masters in Politics Podcast
Former RNC Head Explains Empty Seats at Convention
"I suspect that future conventions may learn something from this one," Mike Duncan says.
By and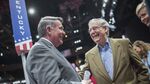 Mike Duncan, the head of the Republican National Committee from 2007-2009, has a couple of theories about the conspicuous number of empty seats at this year's nominating convention. 
"Early in the program I talked about the need to shorten the conventions," Duncan told Bloomberg Politics' Masters in Politics podcast. "I think the other part is there's heightened security here and some people have stayed away because of the security. The security lines particularly on Monday were very difficult to traverse."
The Cleveland Republican convention is Duncan's 12th, he said, and this year's attendance is reminiscent of past gatherings. 
"I remember empty seats in Miami in 1972 because we couldn't get into the convention hall because of the tear gas and the protesters outside."
Duncan also said he thinks the party would be wise to shorten future conventions. 
"I suspect that future conventions may learn something from this one. I'm not sure that we're going to need four days in the future. I think maybe programs will be a little bit tighter in the future."
Still, Duncan is optimistic that Donald Trump will be able to unify the party. 
"Party unity is important for anyone running for president," Duncan said. "You've got to get somewhere around 90% of the support for your party to have a chance to get elected if you look at historic trends. I assume that that will continue in the future and I see Donald Trump moving toward that."
Before it's here, it's on the Bloomberg Terminal.
LEARN MORE